System:Photovoltaic solar generator
Application:Hotel
Location:Vanuatu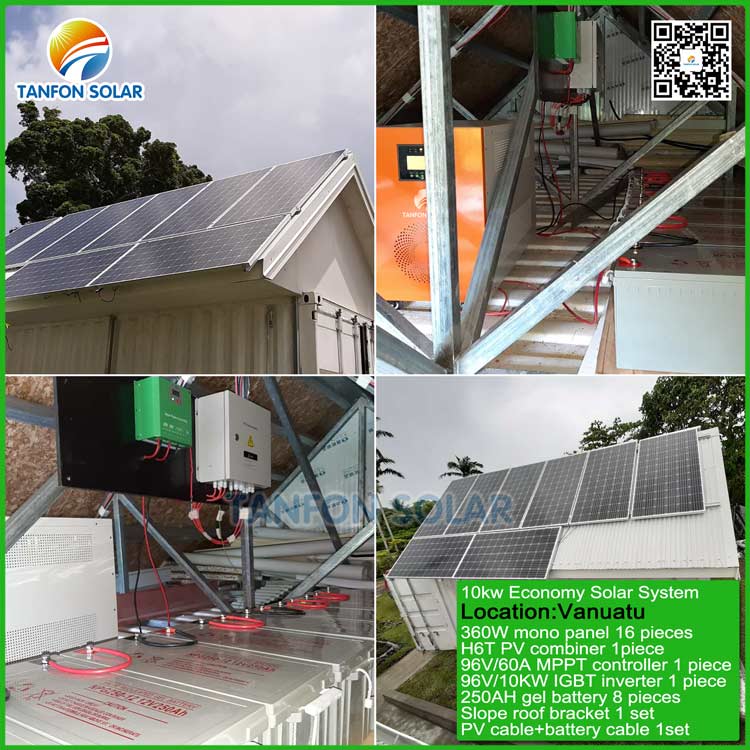 The Republic of Vanuatu, located in the western South Pacific, belongs to the Melanesian Islands and consists of 83 islands (of which 68 are inhabited). The largest island is Santo Island (3,974 square kilometers), with a tropical marine climate
Mr. Brian, he found our company and saw our project in Australia. He was very confident in our products. He wanted to install our Photovoltaic solar generator in 280 container hotels near the sea.
The boss pulled his engineers to a group for technical communication of the project. The load of his container hotel is relatively complete. But because. According to the monthly electricity bill, the electricity consumption of each container room is about 30KWH, and the installation position of the solar panels. Not enough. If it is a normal 20ft container room, only 6 solar panels can be installed, which is far from enough to provide power generation. The island also does not have commercial power, so after our discussion, our engineer suggested that he install a roof on the top of the container, Solved them using electricity and not much space to install solar panels problem.
The customer is very happy to accept the suggestions provided by our engineers, and the economical Photovoltaic solar generator customized according to the customer's needs is just within the budget accepted by the customer. The end customer orders 3 sets of samples. If the sample test is successful, Will order the remaining 277 solar systems.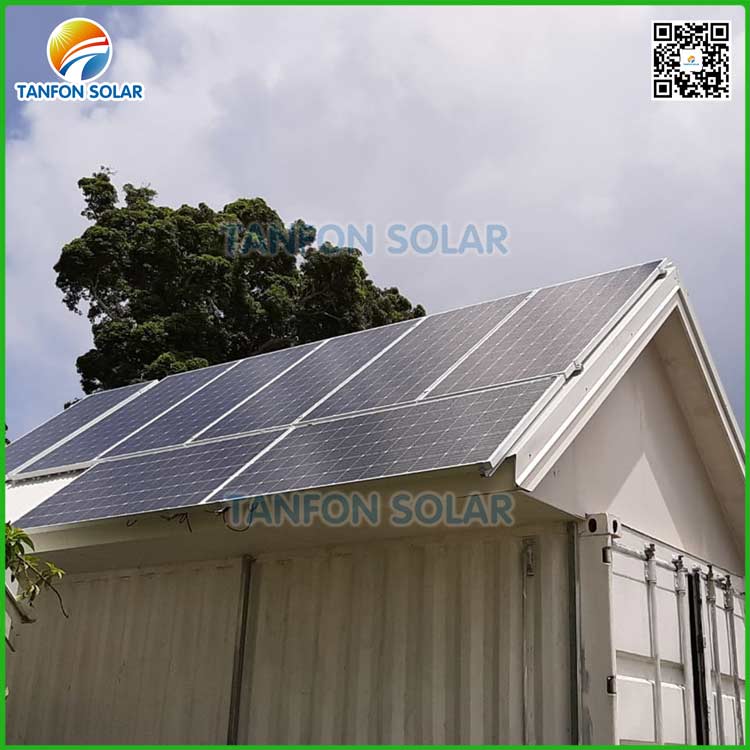 The customer sent us a picture after installation, and once again stressed that our product is actually not expensive. Thank you again for your support.
Why do customers choose us?
1) We help him solve the problem of solar system configuration.In fact, all of our current conventional Photovoltaic solar generator configurations can be configured according to the real needs of customers.
2) Solve the problem of solar panel installation for customers, and solve the storage space problem of inverter, controller and batteries.
3) When encountering technical problems, we promptly pull technicians into a group to save communication costs for customers.
4) Tanfon has container Photovoltaic solar generator installation experience and customer praise, winning this smooth cooperation.
5) Professional customized services, winning customers' favor
Now this economical 10KW Photovoltaic solar generator works very well. The solar power generation system can be tailored to each user. If you are also looking for a residential solar system, it is more used at night than during the day (for example, the family goes to work during the day, and returns home at night) We can also re-customize the economic solar energy that suits your needs and budget Photovoltaic solar generator.
Choose Tanfon, choose satisfied service