Who we are?
Tanfon is TOP10 solar solar Rooftop PV system project factory in china
What we do?
Expert of solar Rooftop PV system,industrial solar power generator since 2007 .Engineer have been to more than 32 countries to install 10000+ Successful project cases
How we do ?
Tanfon solar--German technology, Chinese price, Global service
1).Our IGBT inverter SCR is used German SEMIKRON technology, with Germany standard and quality.
2).Our Chinese factory is mainly responsible for the supply chain management and production
3).Our Global service in Thailand,Kenya,Senegal,Mozambique,will build 120 service centers all over the world. Give strong after-sales service in Local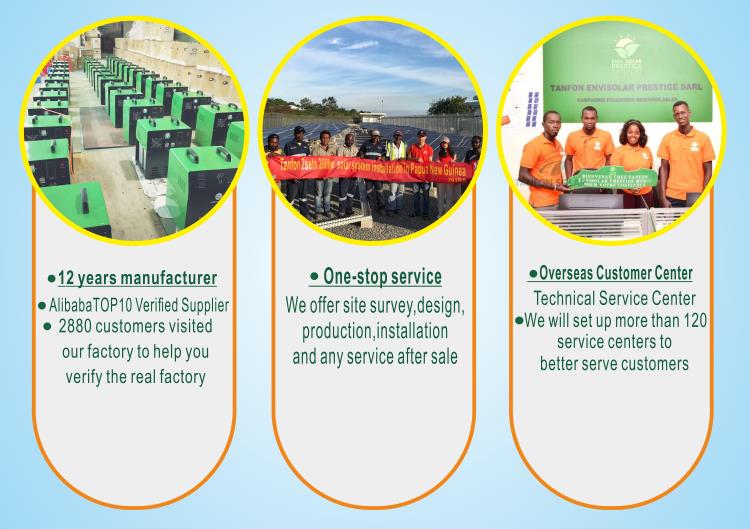 solar Rooftop PV system Product Details
solar Rooftop PV system

Solar Panel (Quantity: 56 pieces)

FS355W mono solar panel(poly optional)

Vmp: 38.89V Voc: 47.13V Imp: 9.25A

Size: 1956*992*40mm

Coated steel Glass: 3.2mm Tempered

Terminal block: IP65 with MC4 connector

Efficiency performance: 25 years 80 %, 20 year 85%, 10 years 90%. 25 years life time (CE RoHS)

solar Rooftop PV system combiner (Quantity: 1 piece)

Model: H8T-192v Multiple PV strings inputs

Simplify wiring between PV array and controller, protections to controller, Prevent hot spot effect

Wide range of DC input voltage

Reliable thunderstorm & surge protection

Product Size: 400*425*145mm

Solar Controller (Quantity: 1 piece)

MPPT controller model:192V/80A

Charging efficiency; 90%-95%,

charging mode, intelligent control,

various protection functions

Solar Inverter (Quantity: 1 piece)

Pure sine wave inverter: 20kw(full power)

DC input:192v AC charger 15-20A

100% Germany brand IGBT materials

Double protection, easy after sales service

O/P: 110V, 220VAC

Product Size: 590*470*730mm

solar Rooftop PV system Battery (Quantity: 32 pieces)

Capacity: 12V/200AH

Full sealed Solar power gel battery,

Service life: 6-8 years ,

Size: 522*240*219mm

solar Rooftop PV system Rack (Quantity: 1 set)

Slope Roof or Flat roof or Ground (option)

including complete fittings

wind load: 55m/s, snow load:1.5kn/m2

structure: Anodized Aluminum + stainless steel

solar Rooftop PV system Cables (Quantity: 1 set)

32pcs 32mm2*35CM battery cable

4pcs 50mm2*1M battery cable

4mm2 PV cable 200M

Terminals and MC4
solar Rooftop PV system Easy installation:
If this off grid 20000 watt solar Rooftop PV system configuration do not suit for you house used, please send inquiry to us to discuss more, we will make the suitable design system for you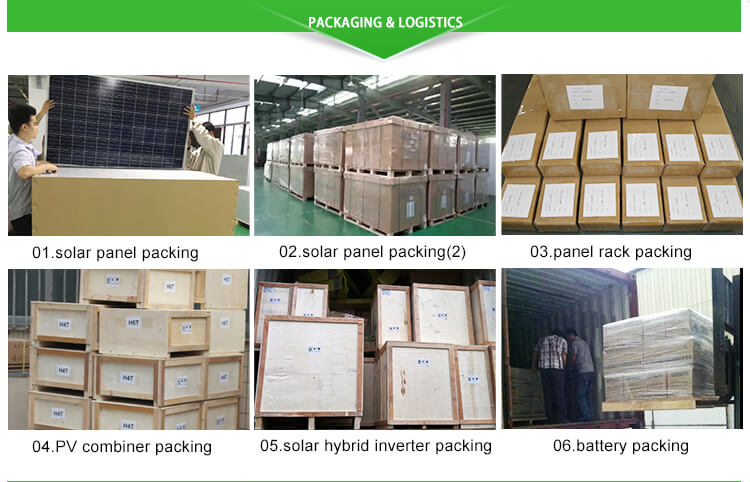 solar Rooftop PV system projects: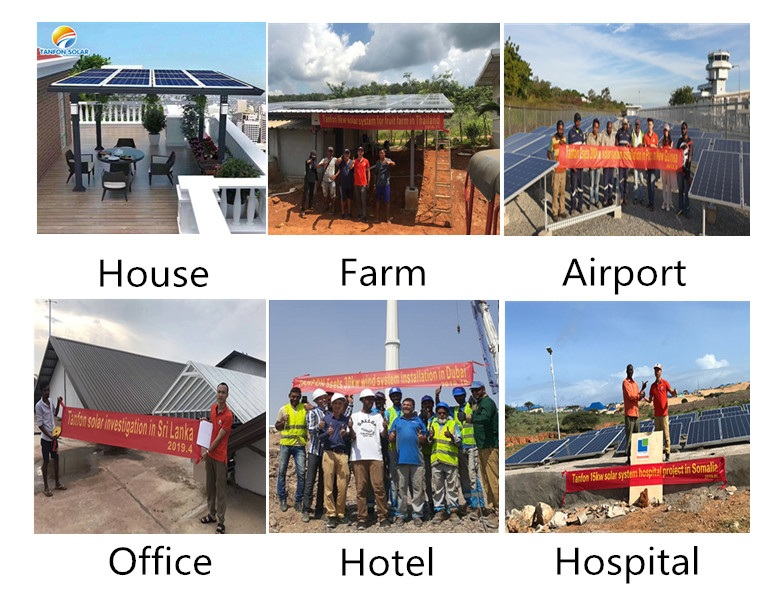 Why TANFON is your right Choice?
Quality:
Service:
Pre-sale: Have been served for 120 countries professional teams will free to hlep you to design and big project site survey.

Selling: Three days per time of follow-up services, video inspection.

After sales: Engineer can be on-site installation service.
Efficiency:
Project design solution will send to you quickly within 1 hour

The fastest will be shipped in 7 days

The engineer will arrive at the installation site within 10 days after the goods arrived at port.
solar Rooftop PV system Customer Real Feedback:
Send Inquiry now!