Solar powered street lights are a very good example on what can be done with solar energy.
A growing number of solar powered street lights projects are running in Africa, Asia and the Middle East.
Some European and US cities are currently running pilot projects.
The concept is straightforward and we shall see more countries migrating this way.
well chosen, solar powered street lights are cost-effective, cost-saving and reliable.
50w solar panel lights Applications

Jogging and Bike Path Lighting

Perimeter Security Lighting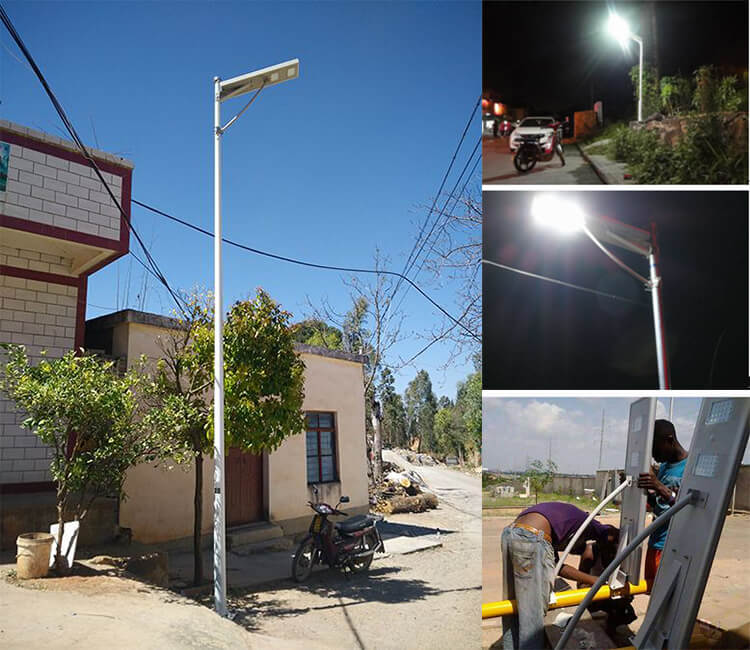 TANFON A-SLS50W solar panel lights system
Solar panel

75W/18V Monocrystalline sillicon solar panel, waterproof resign package. Sillicon chip import from Germany. PV efficiency>20%

Solderability and tension ensured by quality printing paste

LED Lamp

50W High Lumens

Lumen(LM): 7000-8000

Chip import from USA

LED Chip: High Brightness Bridgelux, high efficiency, low loss, luminous flux 140lm/w-160lm/w

PHILIPS and CREE for optional

Battery

38AH LiFePO4 12.8V Lithium battery

Long life cycle, >2000 times deep cycle, 8 times of lead acid battery

No memory effect, highly efficient charge anytime. no reduction of capacity

low self-discharge rate <3% monthly

MPPT Controller

Multicrest MPPT tech, adapts to the solar panel which is under shadow or partly damaged

Auto identify day/night

Very low dormancy loss: 0.06W

Colour Temperature
Discharge time

Over 36 hours, considering 3-5 rainy days

Working temperature
Waterproof rate
Mounting height

Suggest 6-7M, install distance: 30m to 35m

Warranty
Tanfon 8W-120W solar light outdoor system/Garden light is Integration design (panel+battery+LED lamp all in one box)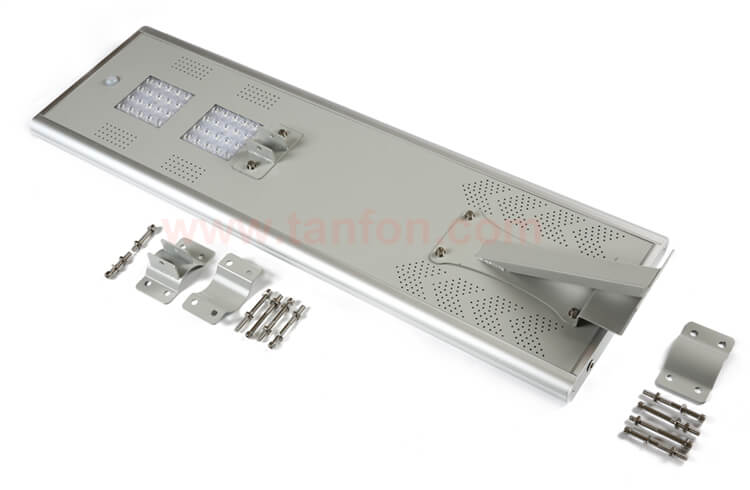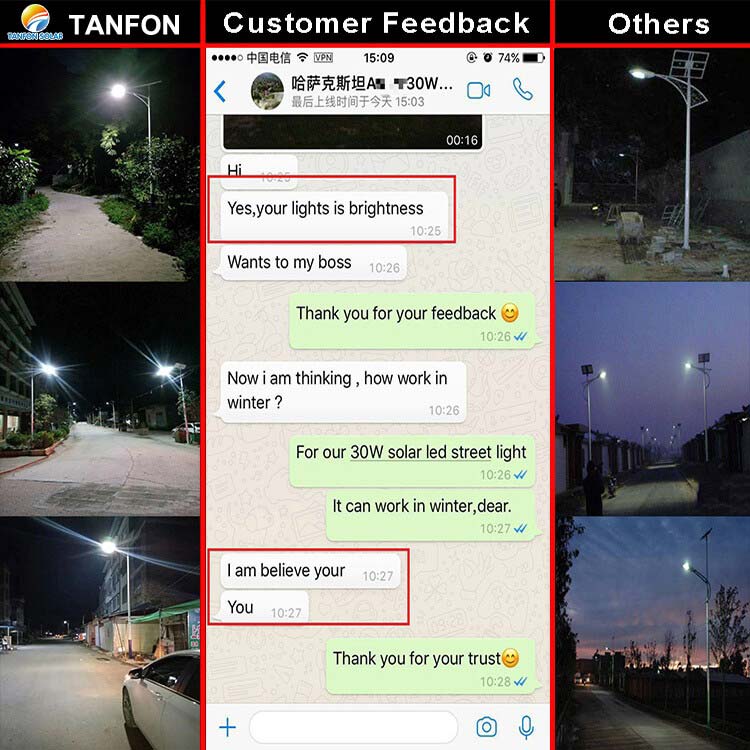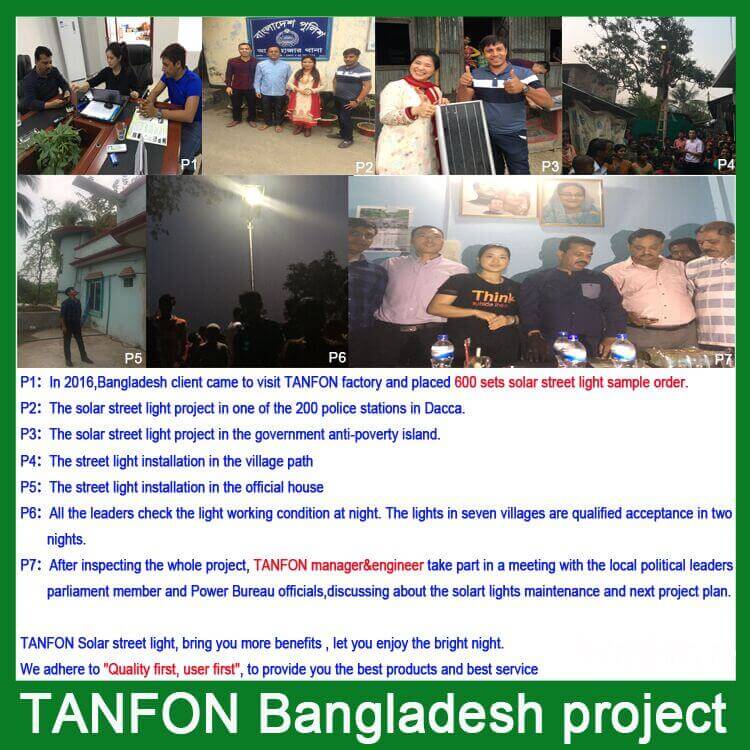 TANFON solar street light manufacturer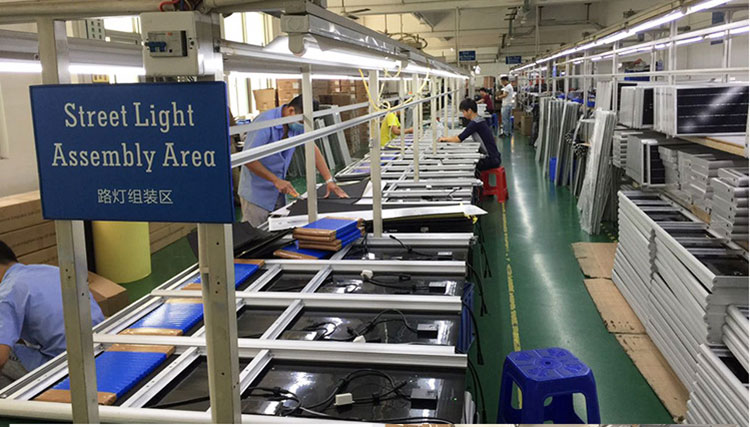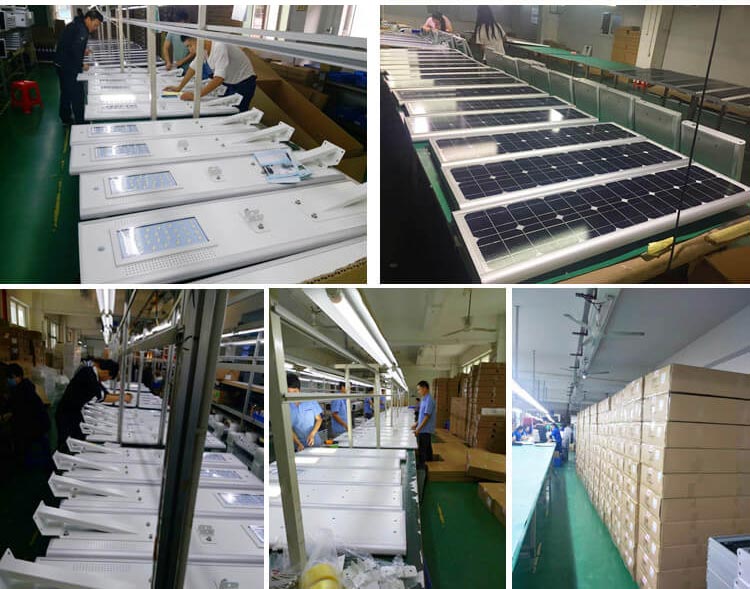 Solar street light manufacturer SGS inspection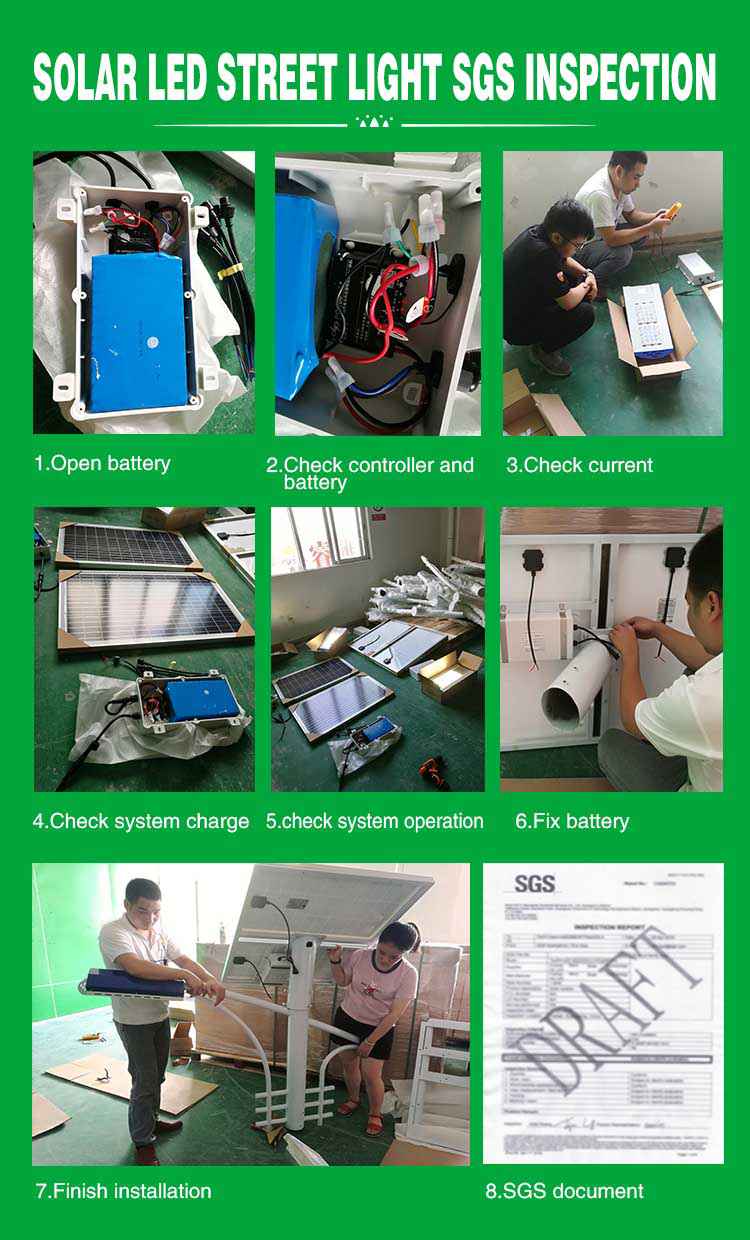 50W solar panel light led street light system
FAQ
Q:Are you factory or trading company?
A: We have 3000 sqm modern factory, with 4 production lines. We have 40 factory workers and 5 of them are quality control and engineer guys. Welcome to visit our factory.
Q.How long does the solar power can be stored of solar panel lights?
A:Solar power of the integrated solar street light can be stored for 6 months after the batteries are full charged. Please examine, and charge periodically after long time transportation to prevent damage.
Q: How many cycles full charge&discharge about your battery?
A: In 50% discharging deepness, it can be cycled for 1,200 times; in floating charging and discharging status, it can be cycled for 5000~6000 times.
Q. How to control the luminance of the solar panel lights?
A:Our solar panel lights adopts Microwave sensor control & brightness sub-regulation. Here we especially introduce the brightness sub-regulation. Use a computer system to set the brightness according to the time change. For example, from 6:00p.m. to 12:00p.m., 100% brightness; from 0:00a.m. to 06:00a.m., 20% or 30% brightness. In that way, this new product can instead common LED street light.
Q. What is the mounting height?
A: We suggest the solar led lights of 20W, 30W, 40W for 3-5m, the solar led lights of 50W, 60W, 80W for 6-8m.
Q. What is the distance?
A: For the distance, we suggest the solar led lights of 20W, 30W, 40W for 25-30m, the solar led lights of 50W, 60W, 80W for 30-35m.