TFES48-200W 48V 200Ah LiFePO₄ Lithium Battery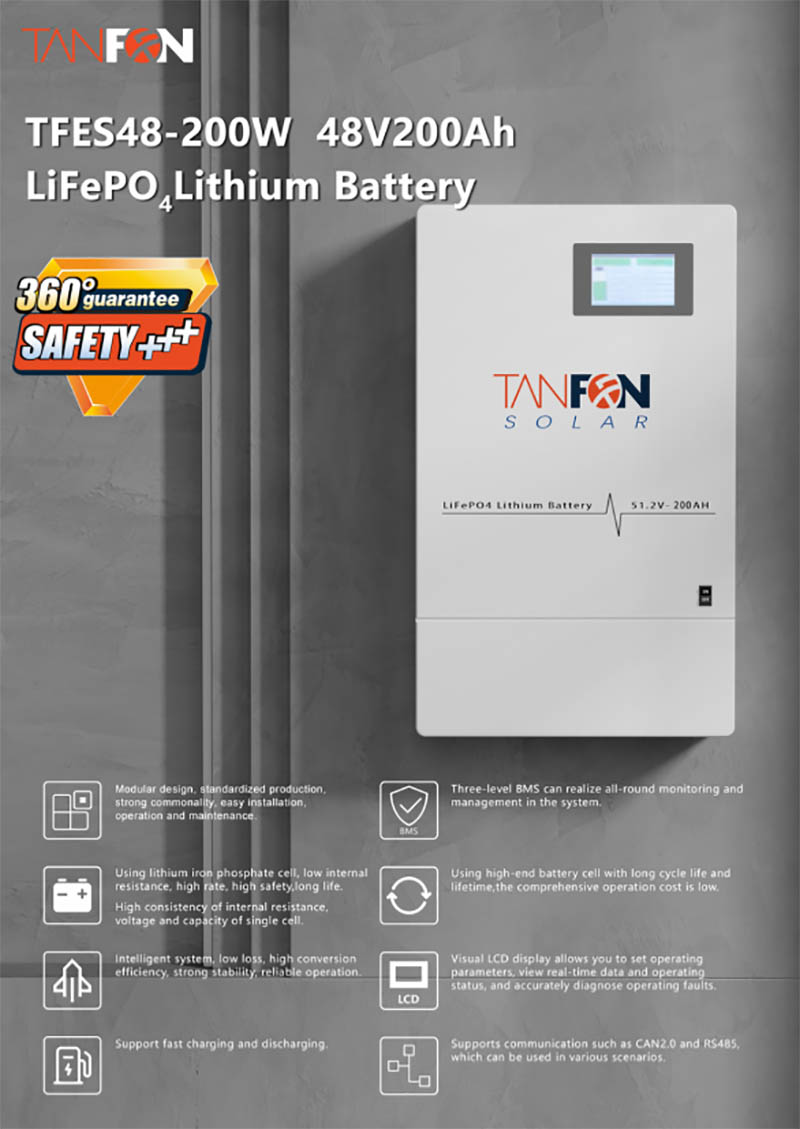 Modular design, standardized production, strong commonality, easy installation, operation and maintenance.
Intelligent system, low loss, high conversion efficiency, strong stability, reliable operation.
Support fast charging and discharging.
Three-level BMS can realize all-round monitoring and management in the system.
Using high-end battery cell with long cycle life and lifetime,the comprehensive operation cost is low.
Visual LCD display allows you to set operating parameters, view real-time data and operating status, and accurately diagnose operating faults.
Supports communication such as CAN2.0 and RS485, which can be used in various scenarios.
Specification

Nominal voltage
48V
Nominal capacity
200Ah
Dimensions
Length
320±2mm (12.59inch)
Width
400±2mm(15.74inch)
Height
500±2mm (19.68inch)
Total height
580±2mm (22.83inch)
Approx, weight
81kg(180991bs)±2.5kg
Characteristics

Electrical Parameters (25°C)

Rated Voltage

51.2V

Rated Capacity (Cs)

200Ah@25°C

Energy

10240Wh

Months Self Discharge

<3%

Charge Efficiency

99.5%@0.2C

Discharge Efficiency

96-99%@ 1C

Terminal Diameter

M8

Internal resistance (Fully charged, 25°C)

<80mQ

Cycle life

>3000 cycles @ 0.2C 100%D.O.D

Capacity affected by temperature

40°C

101%

25°C

100%

0°C

90%

-10°C

75%

Nominal operating temperature

25°C± 3°C (77°F± 5°F)

Operating temperature range

Discharge

・20°C〜60°C (4°F 〜140°F)

Charge

0°C 〜45°C(32°F 〜113°F)

Storage

0°C~40°C(32°F~104°F)

Water Dust Resistance

IP50

Charge Wliage

58.4V

Standard Charge Mode (25°C±2°C, <75%RH)

0.2CA Constant Current to 58.4V, then Constant Vbltage 58.4V until the current drops to 0.02CA, before use. rest 30 minutes

Charge Current

40A

Maximum Charge Current

100 A

Charge CutoffVbltage

58.4V

Continuous Discharge Current

100 A

Maximum Pulse Current

150A(<100ms)

Discharge Cut Off Voltage

44.8V

Communicate Protocol (optional)

RS232/RS485/CAN

SOC (optional)

LED/Screen/PC Software

Application connection

1 string 1 parallel

Mechanical

Cells

16 Strings

Container

Metal
Longer Cycle Life: Offers up to 15 times longer cycle life and 5 times longer float/calendar life than lead acid battery.
Lighter Weight: About 40% weight of a comparable lead acid battery, save up to 60% in weight.
Quick Charge: Short charge lime compared with lead acid battery.
Low Self-Discharge: Lower sei Mischarge compared with lead acid battery, longer storage time without recharging.
Superior Safety: Multi-protection methods built inside to protect the battery from overcharge, over discharge and short circuit situation.
High Efficient: Higher round-trip energy efficiency of the average (92%) than lead acid battery 80% (discharge from 100% to 0% and back to 100% charged).
Outer dimensions (mm)