Megawatt solar energy storage system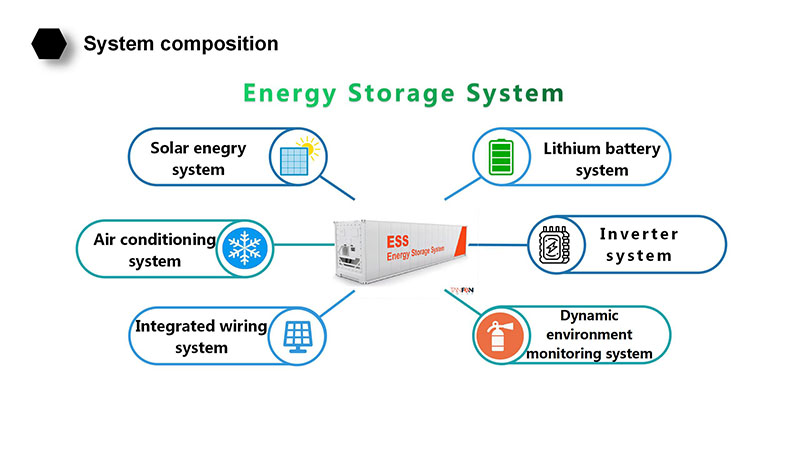 This scheme is applicable to the distribution system composed of photovoltaic, energy storage, power load and power grid(generator).
The application of the system in the power grid mainly includes the following scenarios:
Peak shaving and valley filling: by charging and storing energy at valley time and discharging energy at peak time, the electricity cost of customers can be reduced and the electricity charge at the power consumption end can be saved for customers.
Demand response: when the short-term power consumption is greater than the transformer capacity, the energy storage system will discharge rapidly to meet the load power demand
Dynamic capacity increase: energy storage equipment is used to replace the capacity of transformer in peak period to help customers reduce and reduce the expansion cycle and cost of transformer investment.

Off grid standby power supply: when the power supply of the power grid is interrupted, provide uninterrupted short-term power supply for important loads to reduce the economic losses caused by sudden power failure of loads.
The solar generation is given priority to the user's load to achieve the maximum economic operation, and the excess energy is stored in the daytime;
When the photovoltaic power generation does not meet the load use, the load is powered by photovoltaic + energy storage; If the photovoltaic + energy storage does not fully meet the use of the load,it will be introduced by the mains to provide reliable power supply for the load; When the solar is redundant and the energy storage battery is full, and the photovoltaic surplus power is sale to grid.
300KW on off grid solar power system

FS550W PERC Shingled solar panel(USA TR Technology panel)
Vmp:39.47V Voc:48.077V Imp:13.942A Isc:14.672
210*210 cells Efficiency:20.54%
weight:26KG Size:2239*1042*35mm each 15pcs in series
Strong anti-cracking advantage
25 years product warranty

Model:H6T-480v max circuit voltage: 1000V

Simplify wiring between PV array

and controller, protections to controller ,

Wide range of DC input voltage

Reliable thunderstorm& surge protection

BD300KTR-P

MAX PV input:110KW MPPT range:250-850V

Rate current:144A Output power:110KVA

Otuput voltage :400V , 3L+N+PE

Battery voltage:384V European Efficiency:97.5%

Size:1200 x 2050 x 800 mm Weight:1120KG

Communication:Standard: RS485 / CAN / DRM

Optional: WiFi

Capacity:480V/600AH

Max. Charge Voltage:547V Discharge cut-off voltage:420V safety discharge current:400A,safety discharge coefficient:0.5C

Size:3*100*750*1550mm

Charge Current:100A Weight:2006KG

With IOT extend warranty:10 years

Ground rack installation

including complete fittings

(other type of rack can be customized as perclient's requirement )

1)238pcs Copper sheets ,2*25mm²cable 10M*7PCS

2)4mm² PV cable 2000M, 2*120mm²cable 50M

3)1set MC4 Tools ,terminals and MC4

4)2P 650A switch Box *1pcs,2P100A switch Box *7pcs