Specification: Small Rechargeable Solar Energy System Home Lighting With 3W Mini LED
Solar Panel
3W polycrystalline panel with 5m cable
Battery
6v 4.5Ah rechargeable Lithium battery
Lamp
2pcs LED (1W*2pcs lamp with 3m cable )
USB port:
Connector to charge mobiles, MP3,MP4, digital camera
ON/OFF switch
Yes
Indicator
Yes.
Fully charging time
About 8 hours
Lighting time

1W alone --30 Hours,

1W*2pcs---15 Hours,

Cellphone charge port:5V 2A

Accessaries
USB rechargebable cable,Nokia small tip,Samsung D800,Moto V3,Sonny Ericcson tip
Size
Elec. box: 130*30*90 mm
Panel: 180*230*15mm
Packing size:24*19*10CM / 1.6kg
Advantage: A handle is convenient to carry by hand
LED Color
white
Weight
1.6Kg/ set
20GP/40GP
2869sets / 7172Sets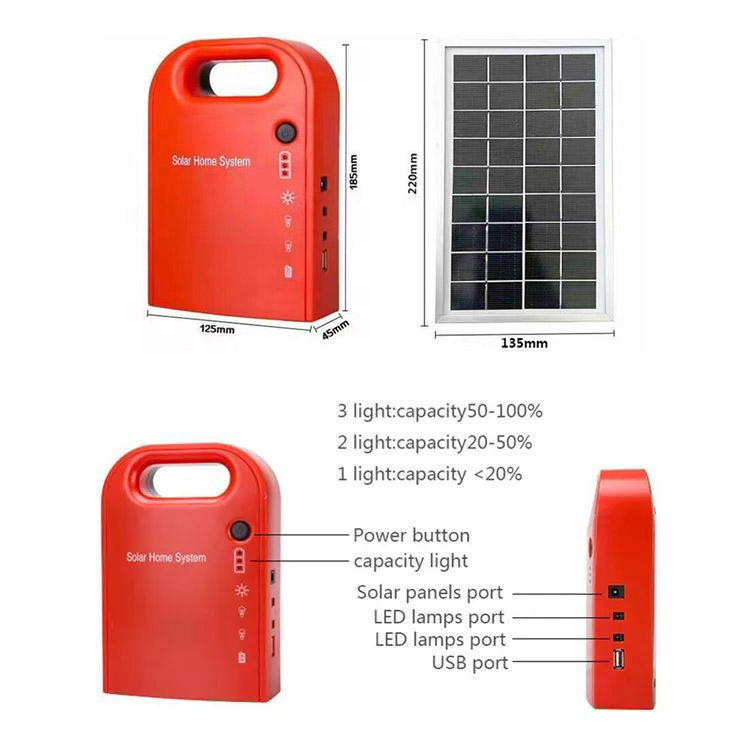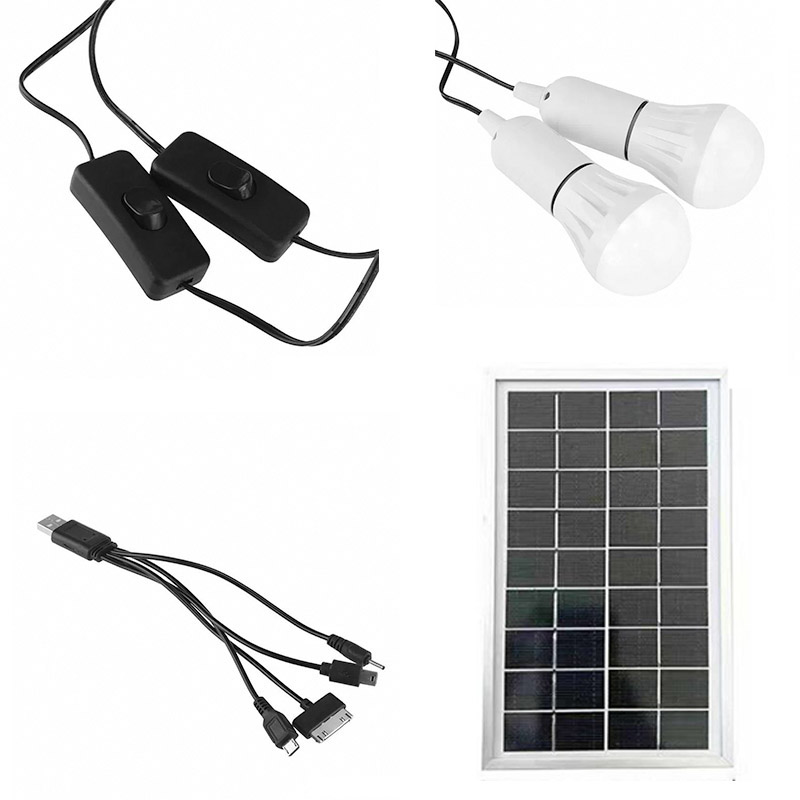 1.Multifunctional solar generator, solar charging, environmental protection and energy saving,You can use it in anywhere when there is sunshine.
2.Ideals for indoor lighting, outdoor lighting, power failure, home lighting ,area without electricity.
3.With mobile phone charging function, equipped with a 4 in 1 USB data cable,
It can charge the mobile phones, MP3, MP4, digital cameras and other electronic products.
4.Equipped with a charging adapter, it also can be charged by electric if you don't use the solar panel. Battery full power needs to charge 8 hours.
5.The solar panel needs to put in the sunshine 25 hours(about 3 to 5 day time according the weather ),the battery will be full of power.
Product feature: Small Rechargeable LED Home Lighting 3W Mini Solar Energy System
1.Multiple protection:safe to use,perfect to protect the safety of your family.
2, Equipped with a 4 in 1 USB data cable and 3W solar panel, cable length of 3 meters.
3, With two 0.9W 100LM bright 6000K-6500K white LED bulbs, each with 3 meters cable and switch. Constant current IC drive, good stability.
4, Battery: 4.5Ah / 6V batteries
5, USB output:5V 500mhA
6, Solar panels charge one day(5 hours): 1 bulb can lighting 8 hours, 2 lbulb lighting 4 hours.
7, Battery full power: 1 bulb lighting 30 hours, 2 lbulbs lighting15 hours.
8, 3 lights display the battery capacity :
3 indicator light: capacity 50-100%
2 indicator light: capacity 20-50%
1 indicator light: capacity <20%
9.Packing box size: 23*8.5*19 cm
10.Weight: 1.6KG

Package includes: Small Rechargeable LED Home Lighting 3W Mini Solar Energy System
1*3W 9V Solar panels
1*Power generation System(Included 4.5Ah / 6V battery)
2* 0.9W 100LM lamps(very bright)
1* 4 in 1 USB cable
1* US AC Charging adapter