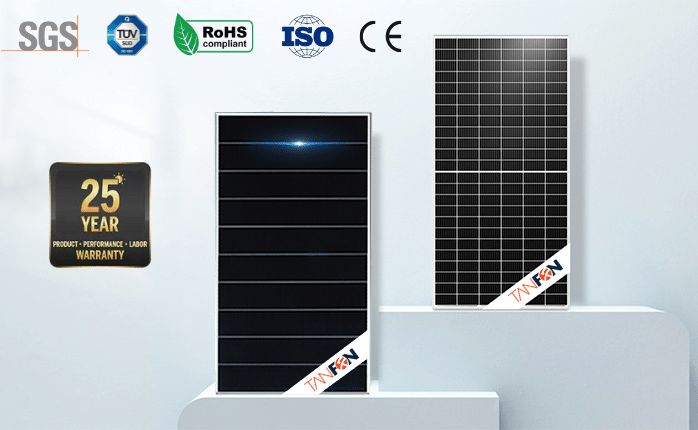 Global Certification
Each component is certified to EU, US quality standards, components work perfectly together for maximum efficiency, Before leaving the factory, our testers will conduct burn-in test, The goal is to get the product to the customer and functioning properly. Solar panel up to 25 years warranty.
Suitable For Many Modes
Off grid solar system, on grid solar system, hybrid solar system are suitable for house, commercial, industrial solar, and provide professional installation advice.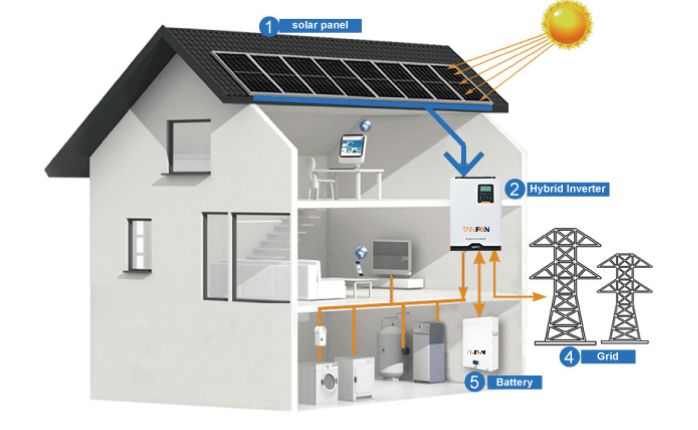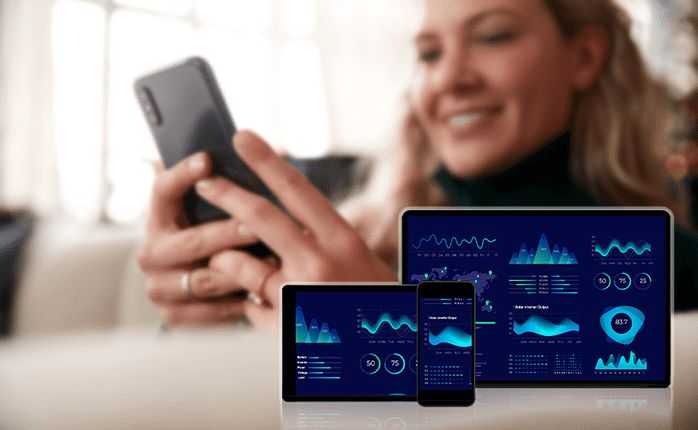 Solar System With IoT
With the powerful TANFON IoT, you can check the working status of the system on your mobile phone and computer at any time, and you can receive maintenance reminders and extend the warranty in time.
SP-10KW
Daily power generation: <29KWH
Battery Bank Storage:24KWH

01 Solar panel
Maximum 600W solar panel optional
Shingled solar panel, USA Technology, higher efficiency, longer life
Vmp:38.39V Voc:47.13V Imp 9.25A
25 years life time (CE TUV)
Coated steel Glass:3.2mm Tem pered
Efficiency performance :25 years 80 % 20 year 85% 10 years 90%

02 Solar inverter
IGBT Powerful Inverter:10KW 96VDC
Single phase output: 110V/120V/220V/230V/240VAC 50/60HZ
Three phase output: 220V 380V 415V 50/60HZ
City power and generator charger build in Overload, overcharge, over-discharge protection Fuji brand IGBT materia

03 Solar battery

Solar battery
The latest through-wall welding technology, more suitable for motor
loads.
Service life:6-8 years Size:522*240*219mm

04 Bracket
Slope Rooftop/ Flat rooftop/ground
wind load:55m/s,snow load:1.5kn/m2
structure:Anodized Aluminum+stainless steel, Angle adjustable
(other type of rack can be customized as per client's requirement)

05 Accessories
Cable
Installation Tools
Configuration is most complete on the market, which includes all necessary components. After the installation is complete, it can be directly used by household appliances.
Super load capacity, with complete short circuit protection, overvoltage protection, overload protection, backfill protection, insulation resistance protect
Solar panel install space:50㎡, Accessories installation space:5-8㎡, (Gel battery system: Total volume:3.6CBM / weight:920KG) (LiFePO4 system: Total Volume:4.8cbm/weight:1520kg)
There are too many solar systems with different configurations in the market. Some companies design the configuration at random in order to make it good prices. Our company is based on 15 years installation and maintenance experience, in the case of protecting the solar power system life to make the configuration that meets the requirements of most customers. Contact us customize system.