60kw solar system inverter input 1 phase output 3phase pv sets price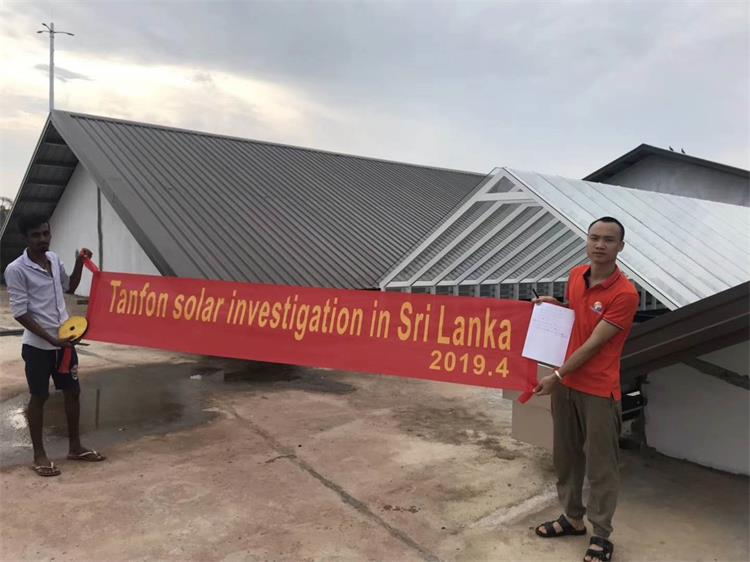 Solar Power System Three Phase Output Complete Kit Connection Diagram
How the off grid solar system working:
This Solar system not only have solar power system function, but also have Utility complementary function. When main power off , the solar system can switch automatically to take use off solar power from battery to run load, When solar power not enough and power off , it can switch automatically to main power and connect with grid electricity take use of main power, at the same time charging battery.
What's the difference between off grid and on grid solar power system?
Off grid solar power system doesn't connect to the power grid. In general, it includes solar panels, charger controller, batteries and inverter. This system will store the solar power into the batteries, batteries energy will be converted the electricity power to supply the appliances working through the inverter.
On grid solar power system connects to the power grid. In general, it includes solar panels, grid-connected inverter, the solar power will be converted the electricity power to appliance working directly. When the solar power is off, the power grid will replenish the electricity power to appliances working.
Solar Energy System Product Details
Three phase off grid solar power system TSP-60KW

Solar Panel (Quantity: 156 pieces)

Maximum 600W solar panel optional

Vmp: 38.39V Voc: 47.13V Imp: 9.25A

Size: 1956*992*40mm

Coated steel Glass: 3.2mm Tempered

Terminal block: IP65 with MC4 connector

Efficiency performance: 25 years 80 %, 20 year 85%, 10 years 90%. 25 years life time (CE RoHS)

PV combiner (Quantity: 2 pieces)

Model: H8T-360v Multiple PV strings inputs

Simplify wiring between PV array and controller, protections to controller, Prevent hot spot effect

Wide range of DC input voltage

Reliable thunderstorm & surge protection

Solar Controller (Quantity: 2 pieces)

MPPT controller model: 360v/100A

Charging efficiency: 90%-95%,

Charging mode, intelligent control.

Temperature compensation,

Various protection functions

Solar Battery (Quantity: 180 pieces)

Capacity: 2V/600AH

Full sealed Solar power gel battery,

Service life: 8-10 years ,

Size: 302*176*336mm

Solar Inverter (Quantity: 1 piece)

Pure sine wave inverter 60KW/360VDC input

Use copper transformer; Bypass function with AC charger;

Product size: 1000*600*1460mm Weight:550KG

Output: 220V 380V 415V 50/60HZ

Solar Panel Rack (Quantity: 1 set)

Slope Roof or Flat roof or Ground (option)

including complete fittings

wind load: 55m/s, snow load:1.5kn/m2

structure: Anodized Aluminum + stainless steel

Cables (Quantity: 1 set)

180pcs 16mm2*35CM battery cable

16pcs 16mm2*1M battery cable

4mm2 PV cable 400M

25mm2 battery cable 100M

Terminals and MC
Solar Power System Projects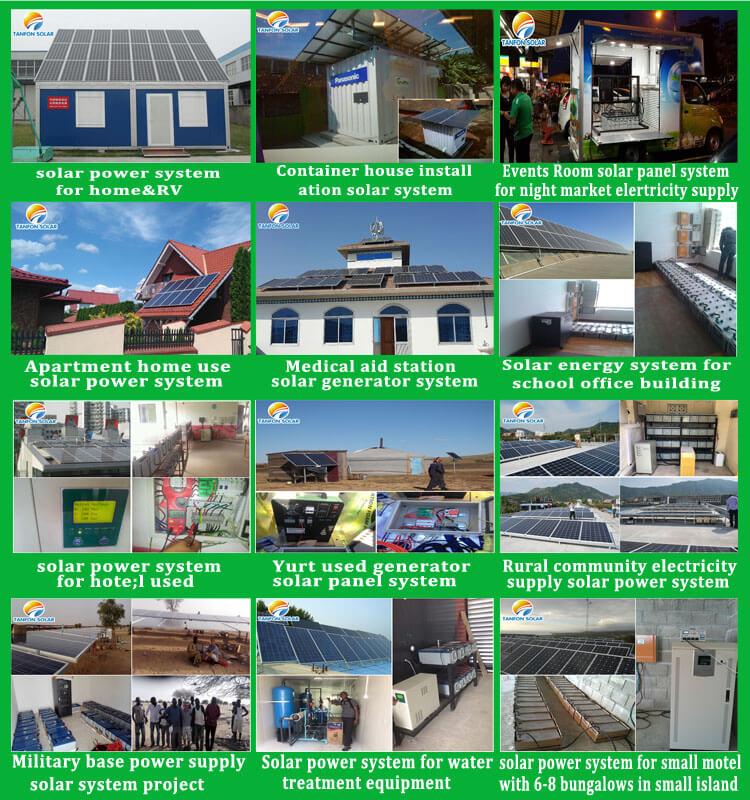 Tanfon Airport Projects 60kw Solar System in Indonesia (click to know more details about this project)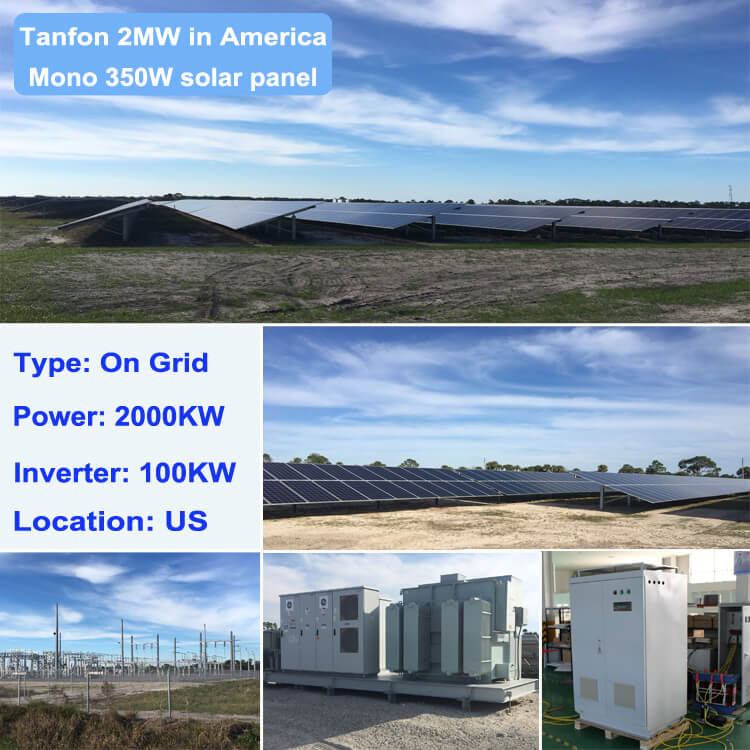 Why Choose Tanfon?
Quality:
Service:
Pre-sale: Have been served for 120 countries professional teams will free to hlep you to design and big project site survey.

Selling: Three days per time of follow-up services, video inspection.

After sales: Engineer can be on-site installation service.
Efficiency:
Project design solution will send to you quickly within 1 hour

The fastest will be shipped in 7 days

The engineer will arrive at the installation site within 10 days after the goods arrived at port.
Solar power system feedback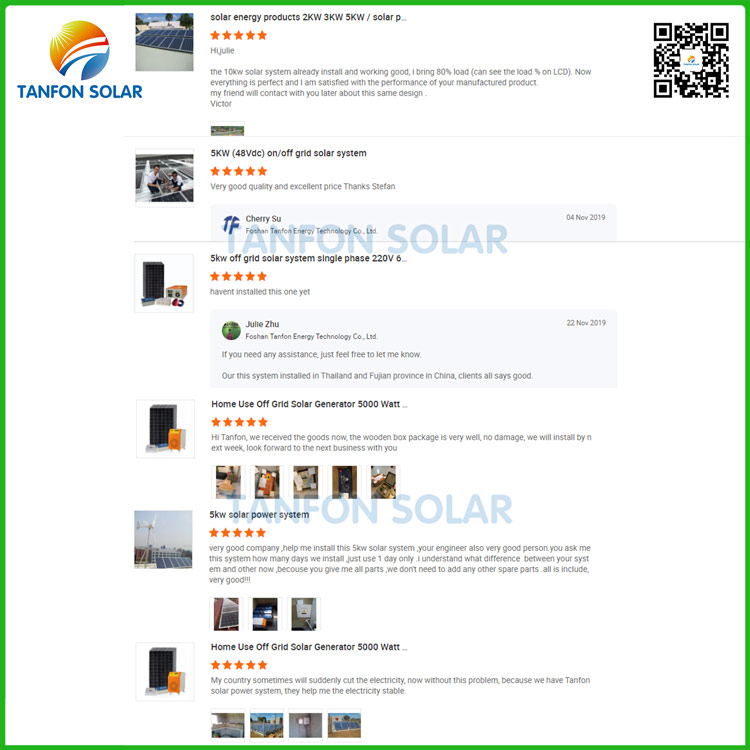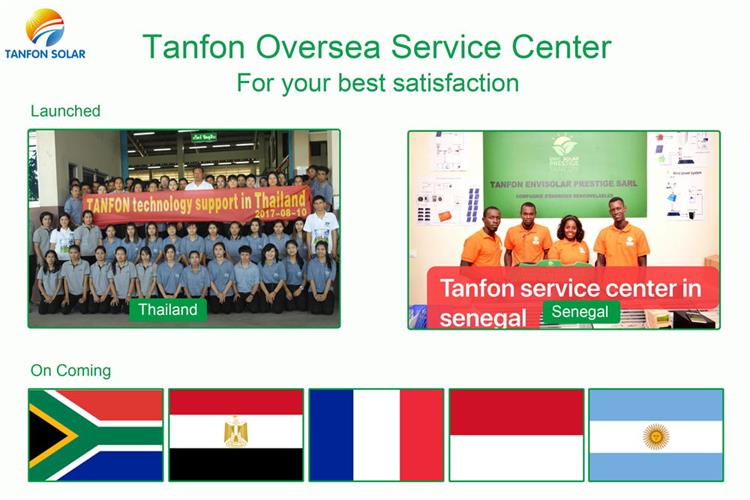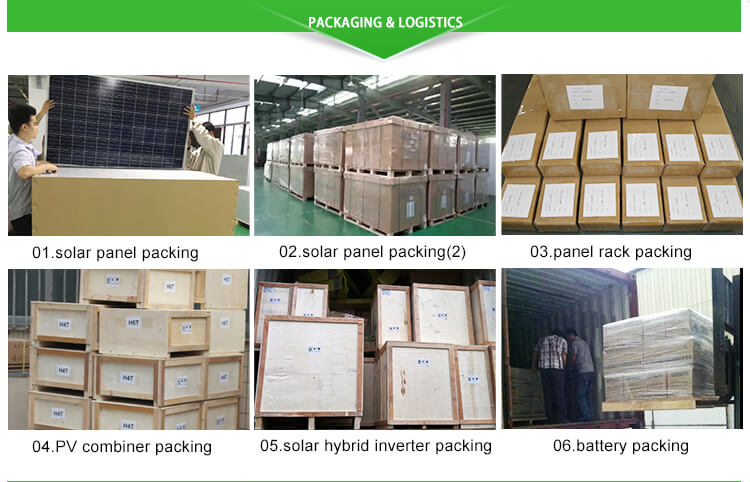 Q: What can be included for this system from TANFON?
A:This system includes:solar panels, PV array combiner,Solar inverter with MPPT solar controller build in, Gel free maintenance battery,solar panel rack,cables.,etc.
Q: Is the system solution always the same? Can I customize one?
A: No. We have professional teams making solutions for our clients. Solutions are mainly customized based on different sunshine time and power consumption. So the 1kw system may be with different configuration.
Q: Who arranges the shipping?
A: We could help you arrange the shipment, we have good service forwarder in Guangzhou.
Q: What is the lifetime of the solar power system?
A: Solar panel's lifetime are 25 years, charger controllers 5~ 7 years, inverters 5~7 years, batteries 6~8 years.
Q: What can Tanfon supply?
A: Tanfon Supply: Free site survey, design, production, installation, maintenance of one-stop service.
Q:Will TANFON go to Global Exhibition?
A:we hope tanfon team also can meet with you in your country!
Solar Products Certificate