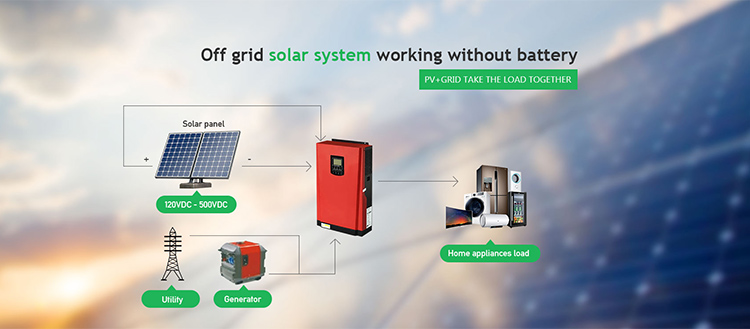 Tanfon factory supply: off grid solar system, on grid solar system, on and off grid hybrid solar system, off grid solar system without battery.
Solar Panel System Without Battery Technical advantages:
Solar off grid system without battery, 35% cost off compared to traditional solar system

Connect generator And PV complementary

Wide input voltage range, can adapt to many areas and complex power grid

GPRS &WIFI network
Solar Panel System Without Battery design bebnefits
It can be running without batteries, energy share from utility and solar to loads alternatively.

Without batteries, it can help to reduce the whole solar system cost and more importantly it can save electricity fee.

It combines a high PV input MPPT controller, it can convert solar energy form PV to loads directly and the same time the remaining solar energy converted to batteries.

When PV output is reduces by clouds or at night, resulting in no surplus PV power available, loads powered by utility and batteries is charged, when utility outage, batteries discharged.

Off grid solar system running without battery can help to reduce the cost and save electricity fee, energy share from utility and solar to loads alternatively.
TANFON off grid solar panel kits SPII-1kw(running without battery)

Solar panel rated output power: 1000W

Suitable for daily power consumption : >20KWH

FS320W mono solar panel(poly optional)
Vmp: 37.04V Voc: 45.57V Imp 8.63A

Size : 1956*992*40mm

25 years life time (CE RoHS)

Coated steel Glass: 3.2mm Tempered

Terminal block: IP65 with MC4 connector

Efficiency performance: 25 years 80%. 20 year 85%, 10 years 90%

Connect: 4pcs connect to PV combiner

Power capacity: TF-smart-3200-24

MPPT voltage: 120V-500V

Rate voltage: 120V-450V

Allowed Voltage Range Of Grid: 220V

Communication interface: WIFI

Warranty: 2 years

Inverter size: 100 x 300 x 440mm

Weight: 11.5kg

Working without battery.

Slope Rooftop or Flat rooftop

including complete fittings

wind load: 55m/s, snow load: 1.5kn/m2

structure: Anodized Aluminum + stainless steel, Angle adjustable

(other type of rack can be customized as per client's requirement )
Off grid solar panel kits working without battery

3.2kw/5kw full capacity output 220V, 230V, 240V(optional)

PV input 120VDC-500VDC

Solar and grid work together at the same time, for example: your power consumption is 5KW/H, you get 4000W/H from PV, inverter will get grid 1000W/H to take load (save electricity bill)
Off grid solar power system inverter working without battery design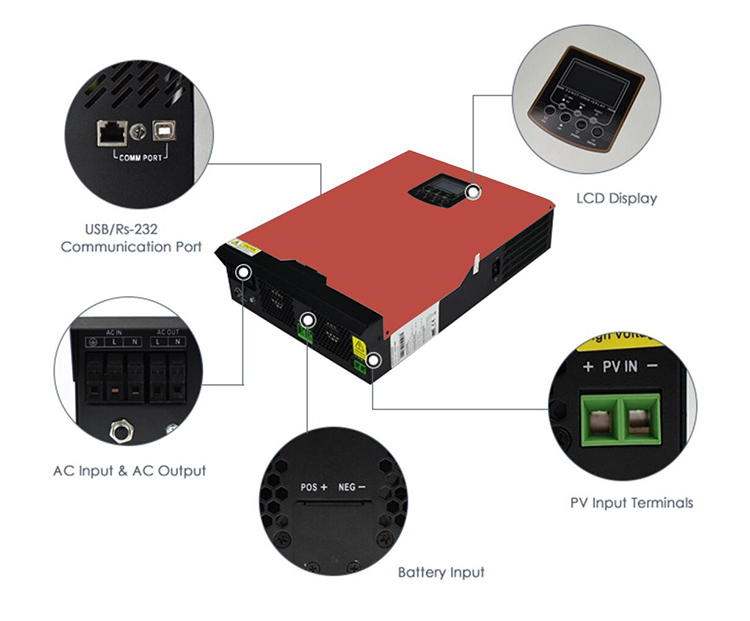 We provide complete set solar power system that include all parts for customers, installation tool can be choose. Customers can easy install the system according to our detailed connect diagram and user's manual.
Off Grid Solar Power System project update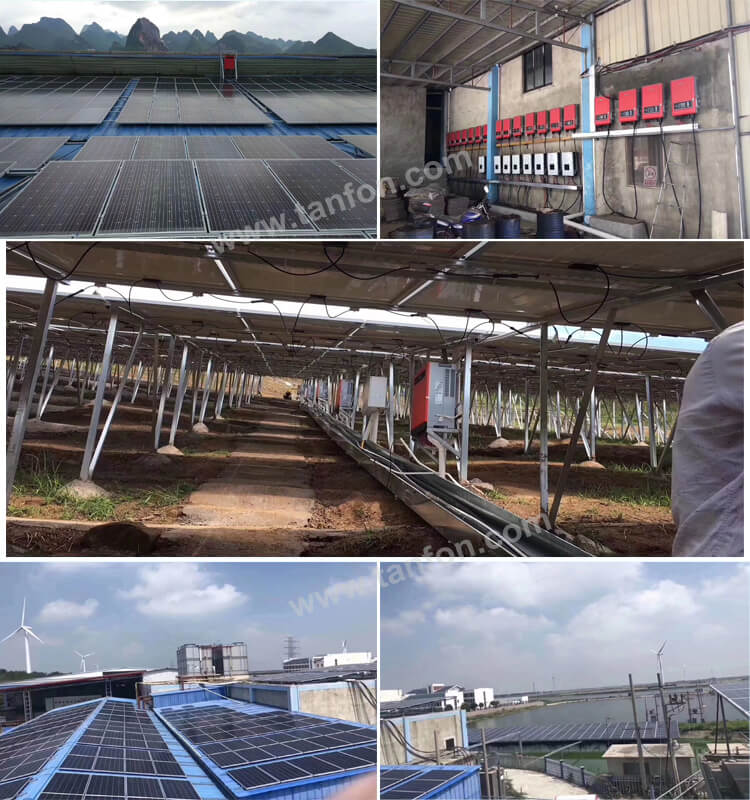 Why Choose Tanfon?
Quality:
Each set solar power system has tested by power-off test of 100 times per hour.
Service:
Pre-sale: Have been served for 120 countries professional teams will free to hlep you to design and big project site survey.
Selling: Three days per time of follow-up services, video inspection.
After sales: Engineer can be on-site installation service.
Efficiency:
Project design solution will send to you quickly within 1 hour

The fastest will be shipped in 7 days

The engineer will arrive at the installation site within 10 days after the goods arrived at port.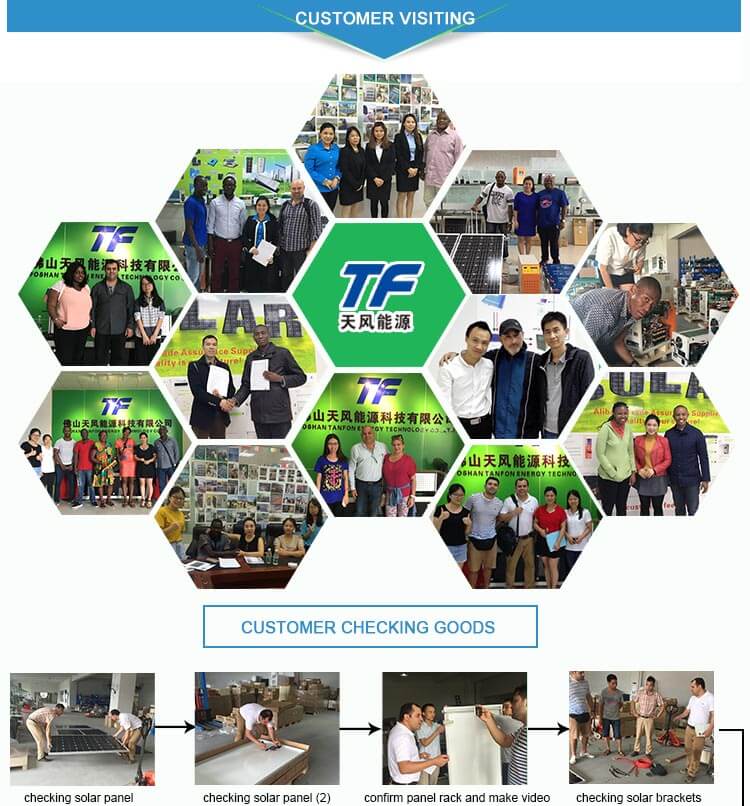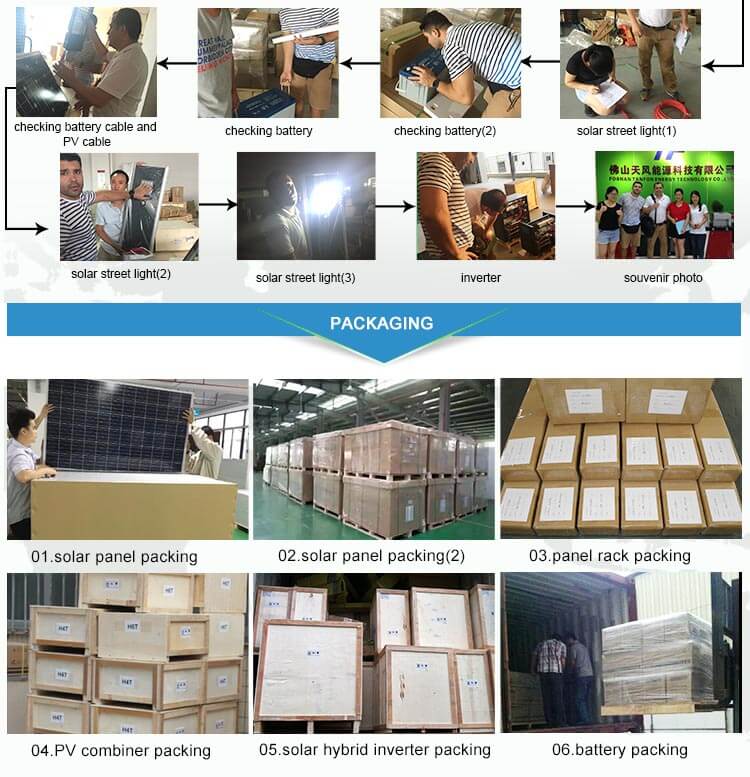 Tanfon off grid solar panel kits certificates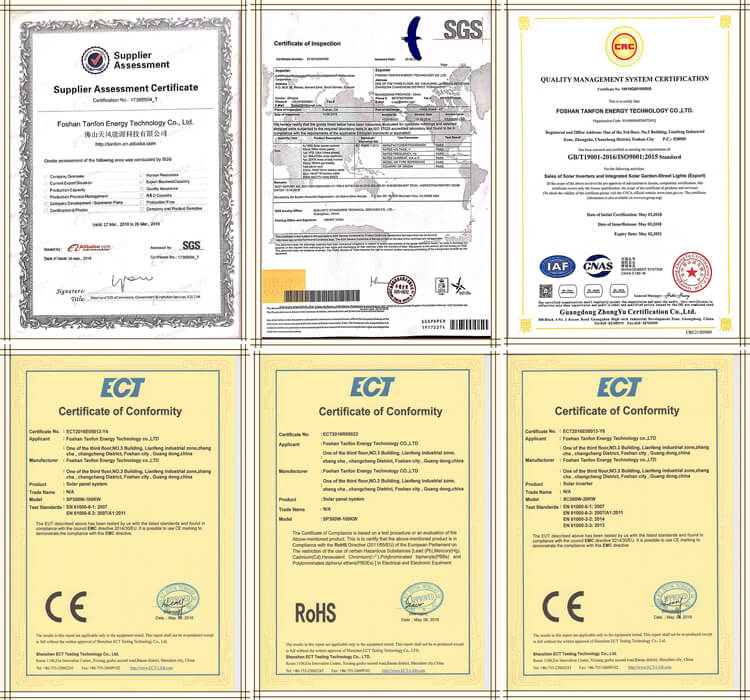 off grid solar panel kits Shipping
Material in stock can be produced (procedure 5-20days) right away after pre-payment confirmation. COSCO Mearsk MSC ship to worldwide for safe shipping, don't worry about package damage or loss. It takes about 15-40 days to worldwide, Please note us your contact details include your phone number for easy contacting from shipping company officer.
Off grid solar power system FAQ
Q: What can be included for this system from TANFON?
A: This system includes: Solar panels, PV array combiner, Off grid Solar inverter, Solar panel mounting rack, PV cables.
Q: Is the solution for complete set? If not, what else are needed?
A: Yes, we can provide solution of complete set. If you don't need complete set, basic parts are available also.
Q: Is the system solution always the same? Can I customize one?
A: No. We have professional teams making solutions for our clients. Solutions are mainly customized based on different sunshine time and power consumption.
Q: Who arranges the shipping?
A: We could help you arrange the shipment, we have good service forwarder in Guangzhou.
Q: What is the lifetime of the solar power system?
A: Solar panel's lifetime are 25 years, charger controllers 5~ 7 years, inverters can be about 20 years
Q:what is TANFON solar system after sales service?
A: During the warranty ,Solar panel--ship free new one ;battery—ship the new one, Inverter / controller--ship free PCB by DHL or Fedex.

We accept OEM and small trial orders, contacting with us now for more information. All inquiries will be replied with in 24 hours.