About solar water pumping system

It consists of a submersible pump, pump inverter, cable, solar panels and etc.
Solar panels convert solar energy into electrical energy, connecting to a dedicated low-voltage solar pump. It is convenient, practical and simple. The solar pump runs automatically in the sun, while it runs continuously by battery or grid electric when little sunshine.

TANFON 10hp solar water pump

Solar Panel (18pcs)

FS340W mono solar panel(poly optional)

Vmp: 38.39V Voc: 47.13V Imp: 9.25A

Size: 1956*992*40mm

Coated steel Glass: 3.2mm Tempered

Terminal block: IP65 with MC4 connector

Efficiency performance: 25 years 80 %, 20 year 85%, 10 years 90%. 25 years life time (CE RoHS)

Pump Inverter (1 piece)

EP20-4T-5.5G
Solar input votage:310V
MPPT controller: 450V-700V
MPPT effeiceny: 99.99%
Thunder protection,water full protection
Output:220V single phase

Solar Panel Rack (1set)

Slope Roof or Flat roof or Ground (option)

including complete fittings

wind load: 55m/s, snow load:1.5kn/m2

structure: Anodized Aluminum + stainless steel

Cables (1set)

7pcs 32mm2*35CM battery cable

2pcs 50mm2*1M battery cable

4mm2 PV cable 100M

Terminals and MC4

Pump (1piece)

Submersible water pump

50HZ,220V single phase

Body: AISI304

Impeller: AISI304

Suitable for well and river
10hp solar water pump head & capacity
| | | | | | | | |
| --- | --- | --- | --- | --- | --- | --- | --- |
| 4SP8-40 | 7.5KW | 224m 3.6m³/h | 212m 4.8m³/h | 196m 6.6m³/h | 172m 8.4m³/h | 132m 10.2m³/h | 76m 12m³/h |
| 4SP8-44 | 7.5KW | 246m 3.6m³/h | 233m 4.8m³/h | 216m 6.6m³/h | 189m 8.4m³/h | 145m 10.2m³/h | 84m 12m³/h |
| 4SP14-21 | 7.5KW | 133m 3m³/h | 125m 6m³/h | 116m 9m³/h | 103m 12m³/h | 83m 15m³/h | 57m 18m³/h |
| 4SP14-25 | 7.5KW | 158m 3m³/h | 149m 6m³/h | 138m 9m³/h | 123m 12m³/h | 99m 15m³/h | 68m 18m³/h |
| 6SP30-7 | 7.5KW | 77m 18m³/h | 69m 24m³/h | 62m 28m³/h | 57m 30m³/h | 42m 36m³/h | 30m 40m³/h |

If this 10hp solar water pump configuration do not suit for you house used, please send inquiry to us to discuss more, we will make the suitable design system for you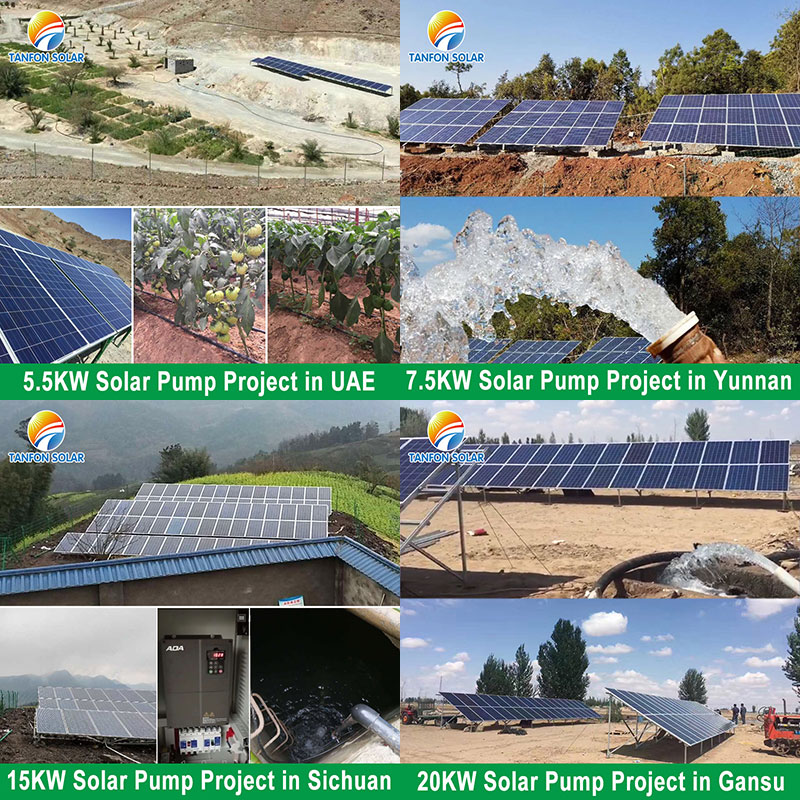 Quality:
Service:
Pre-sale: Have been served for 120 countries professional teams will free to hlep you to design and big project site survey.

Selling: Three days per time of follow-up services, video inspection.

After sales: Engineer can be on-site installation service.
Efficiency:
Project design solution will send to you quickly within 1 hour

The fastest will be shipped in 7 days

The engineer will arrive at the installation site within 10 days after the goods arrived at port.