High Voltage MPPT Solar Charge Controller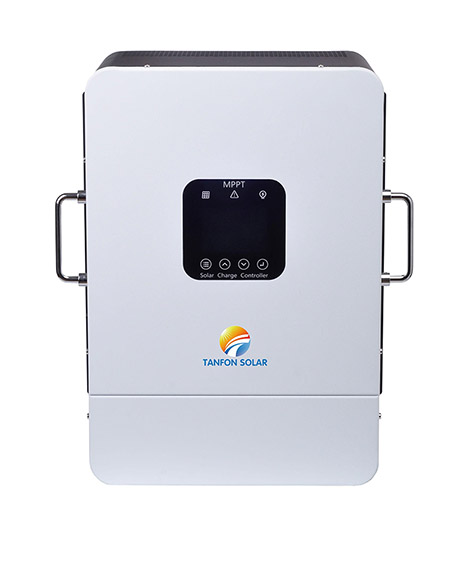 Feature:
1)We choose high speed and high performance 32-bit processor with excellent EMC design
2)Advanced MPPT tracking algorithm, the tracking efficiency more than 99%
3)High performance IGBT power module as electronic switch, there is no any mechanical switch, plus multiphase synchronous rectification technology, improves the stable greatly
4)Ultrafast maximum power point tracking speed to ensure tracking efficiency
5)Accurate identification and tracking of multi-peak maximum power points
6)Through the double loop control function of voltage loop and current loop, user can set the limiting charging current. It can work with GELZ LEAD-ACID, LITHIUM and other type battery
7)Widely PV arrays' voltage input, this can save the cost of PV combiner box, wires and construction
8)Full enclosed duct design and high-speed fan for cooling makes the controller suitable for various harsh environment
9)It shows the ambient temperature. It also has automatic temperature compensation function and RTC real time function
10)The perfect battery protection function and multi-stage charging improves battery life
11)The controller has power generation statistics and real-time power curve function, so we can know power generating information at any time
12)Colorful LCD display, touching key and multi-language option makes the HMC (Human Machine Communication) easy and convenient
13)Twice protection function to protect battery from damage at any bad situation
14)Standard Modbus communication protocol for RS-485 or GPRS communication to extend the communication distance
15)User can control the charging of controller through RS485 or dry contact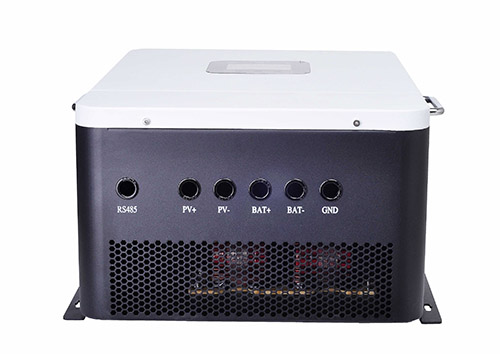 Specification:
Rated System Voltage(V)

192V-398V

400V-480V

Rated Charging Current (A)

口50A 口 80A 口 100A

Charging Technology

MPPT(Max. Power Point Tracking)

MPPT Efficiency MPPT

>99.9%

Max. Input Voltage(V)

800V

850V

MPPT Strarting MPPT

V+20v

No-Load Consumption

<0.5W

Display

Colorful LCD Screen + Touching Keys

Language

English/Chinese

Protection Function

Input reverse polarity, over voltage, short circuit, over temperature, etc.

Ambient Temperature

-25°C +55°C

Alititude

<3000 Meter, it should reduce power if the altitude more than 3000 meter

Protection Level

IP32 (Indoor)

Noise (1 Meter)

<50dB

Cooling Method

Pure Aluminum Heat Sink+Fan Cooling

Dimension (mm)

500*384*228mm

N.W (KG)

27KG

Packing Size (mm)

Pearl Spong+Carton Box

Charing Parameters(GEL/Lead-acid Battery)

Rated Voltage

2V

N

N means different rated voltage. Forexample,

if your battery bank systemrated voltage is 360V.

Its over voltagedisconnect paramter will be
2.65*360/2=477V

Over Voltage Disconnect (V)

2.65V

=2.65-N/2

Over Voltage Reconnect (V)

2.5V

=2.5-N/2

Equalize Charging Voltage (V)

2.4V

=2.4-N/2

Float Charging Voltage (V)

2.3V

=2.3-N/2

Equalize Charging Recovery Voltage (V)

2.2V

=2.2-N/2

Over Discharging Warning

1.75V

=1.75-N/2

Equalize Charging time

120 Minutes

Limiting Charging Current

<Rated Charging Current
Quotation(High Voltage):
Model

Voltage

192V

80A

100A

216V

100A

360V

60

80A

100A
Remarks:
The price is EXW foshan price. If have buy other product or quantity we agree FOB term
(2) Delivery tine: 2-5 days.
(3) Payment condition: T/T, western union.
(4) Warranty: 2 years.
(5) Service: during the warranty, if products have problem .our factory will send FREE PCB service.