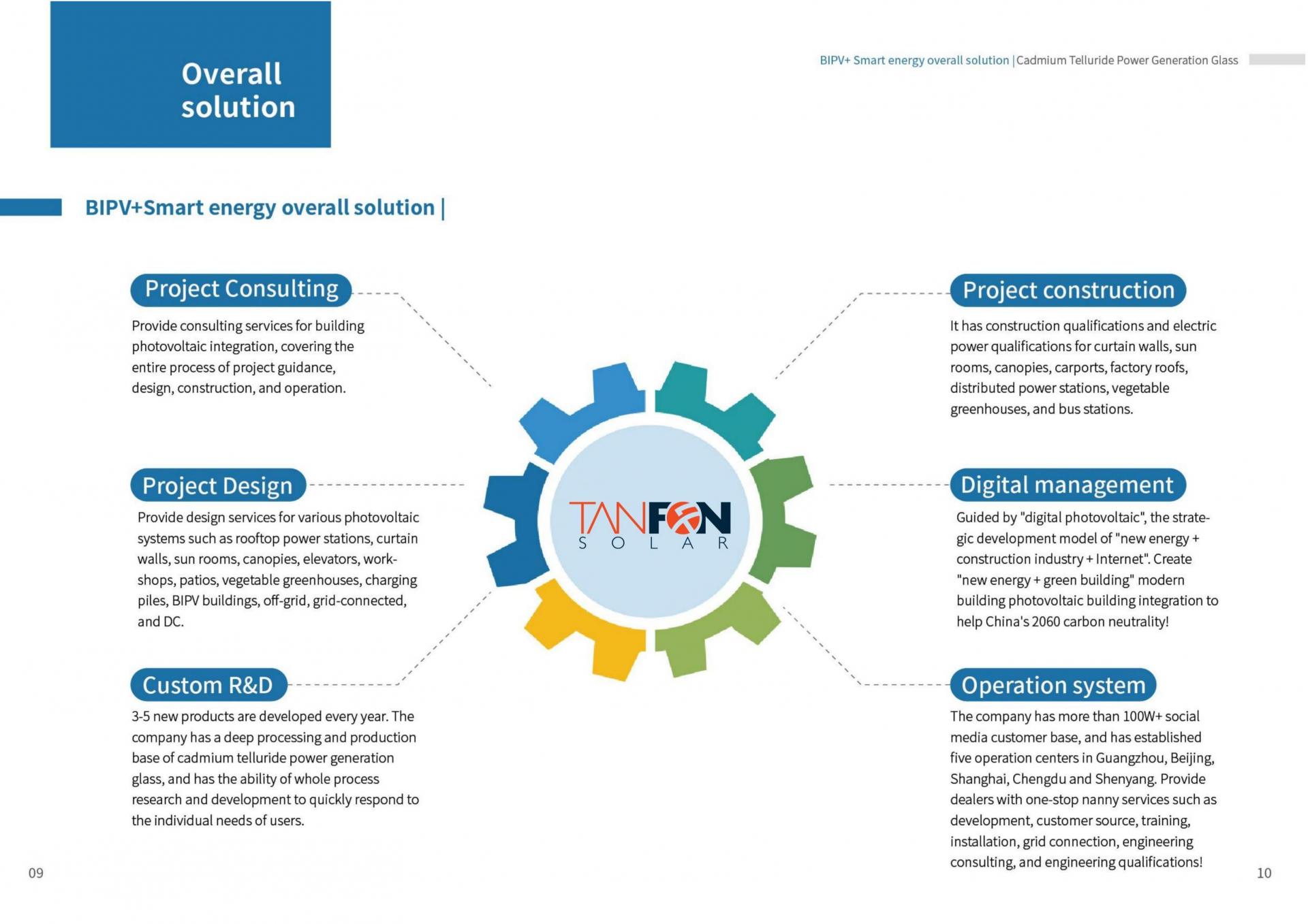 Project Consulting
Provide consulting services for buildingphotovoltaic integration, covering theentire process of project guidance,
design, construction, and operation.
Project construction
lt has construction qualifications and electricpower qualifications for curtain walls, sunrooms, canopies, carports, factory roofs,distributed power stations, vegetablegreenhouses, and bus stations.
Project Design
Provide design services for various photovoltaicsystems such as rooftop power stations, curtainwalls, sun rooms, canopies, elevators, work-shops, patios, vegetable greenhouses, chargingpiles, BIPV buildings, off-grid, grid-connected,and DC.
Digital management
Guided by "digital photovoltaic", the strategic development model of "new energy construction industry +Internet". Create"new energy+ green building" modernbuilding photovoltaic building integration tohelp China's 2060 carbon neutrality!
Custom R&D
3-5 new products are developed every year. Thecompany has a deep processing and productiorbase of cadmium telluride power generationglass, and has the ability of whole processresearch and development to quickly respond tothe individual needs of users
Operation system
The company has more than 100W+ sociamedia customer baseand has establishedfive operation centers in Guangzhou, BeijingShanghai, Chengdu and Shenvang.Providedealers with one-stop nannv services such adevelopment, customer source, training,installation, grid connection, engineeringconsulting, and engineering qualifications!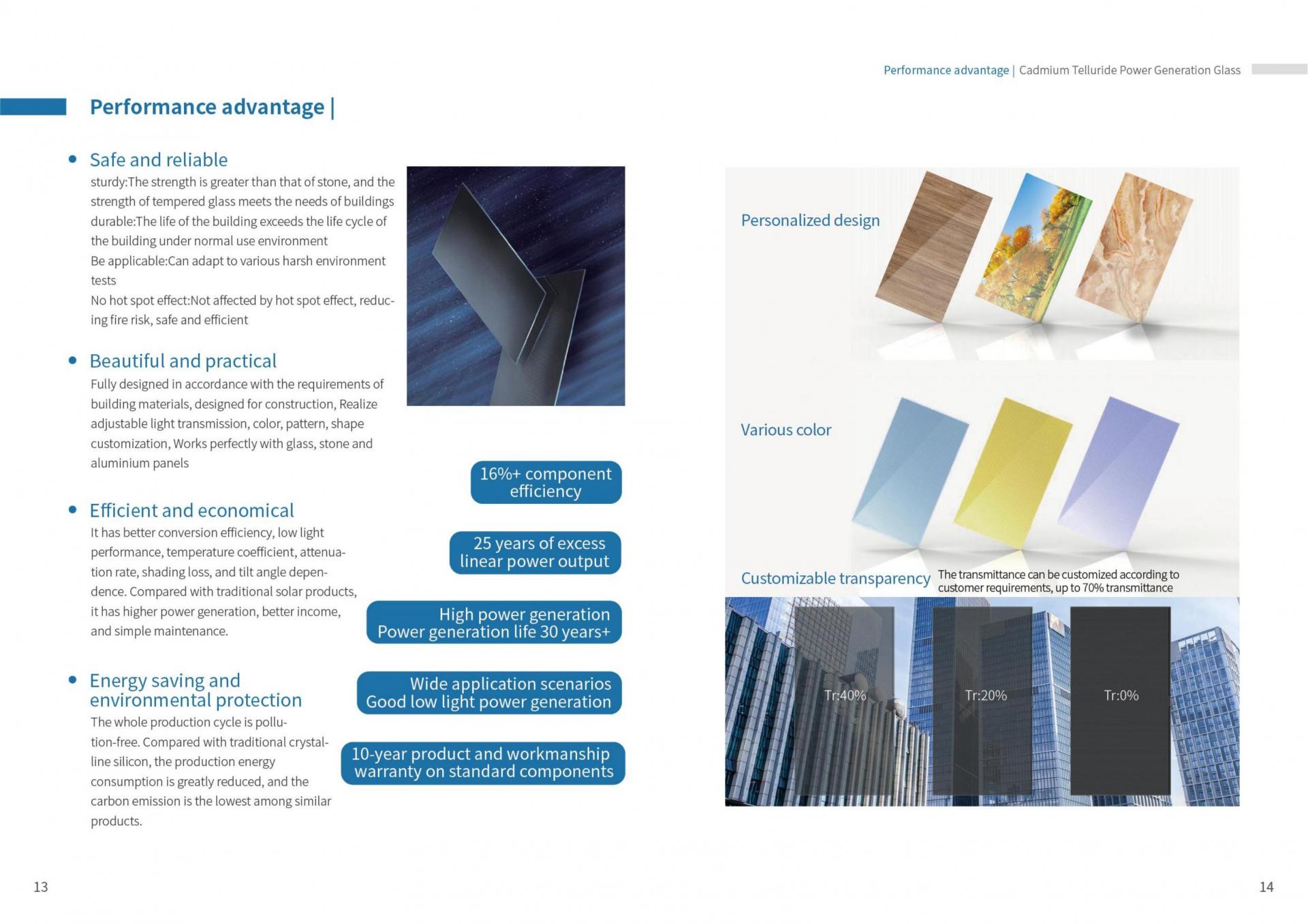 Safe and reliable
Performance advantage Cadmium Telluride Power Generation Glass
sturdy:The strength is greater than that of stone, and thestrength of tempered glass meets the needs of buildingsdurable:The life of the building exceeds the life cycle ofthe building under normal use environmentBe applicable:Can adapt to various harsh environment tests.
No hot spot effect:Not affected by hot spot effect, reduc-ing fire risk, safe and efficient.
Beautiful and practical
Fully designed in accordance with the requirements ofbuilding materials, designed for construction, Realizeadjustable light transmission, color, pattern, shapecustomization, Works perfectly with glass, stone andaluminium panels.
Efficient and economical
It has better conversion efficiency. low light
performance. temperature coefficient. attenua
tion rate, shading loss, and tilt angle depen-
dence. Compared with traditional solar productsit has higher power generation, better income,and simple maintenance.

Energy saving and environmental protection
The whole production cycle is pollu-tion-free. Compared with traditional crystalline silicon, the production energyconsumption is greatly reduced, and thecarbon emission is the lowest among similarproducts.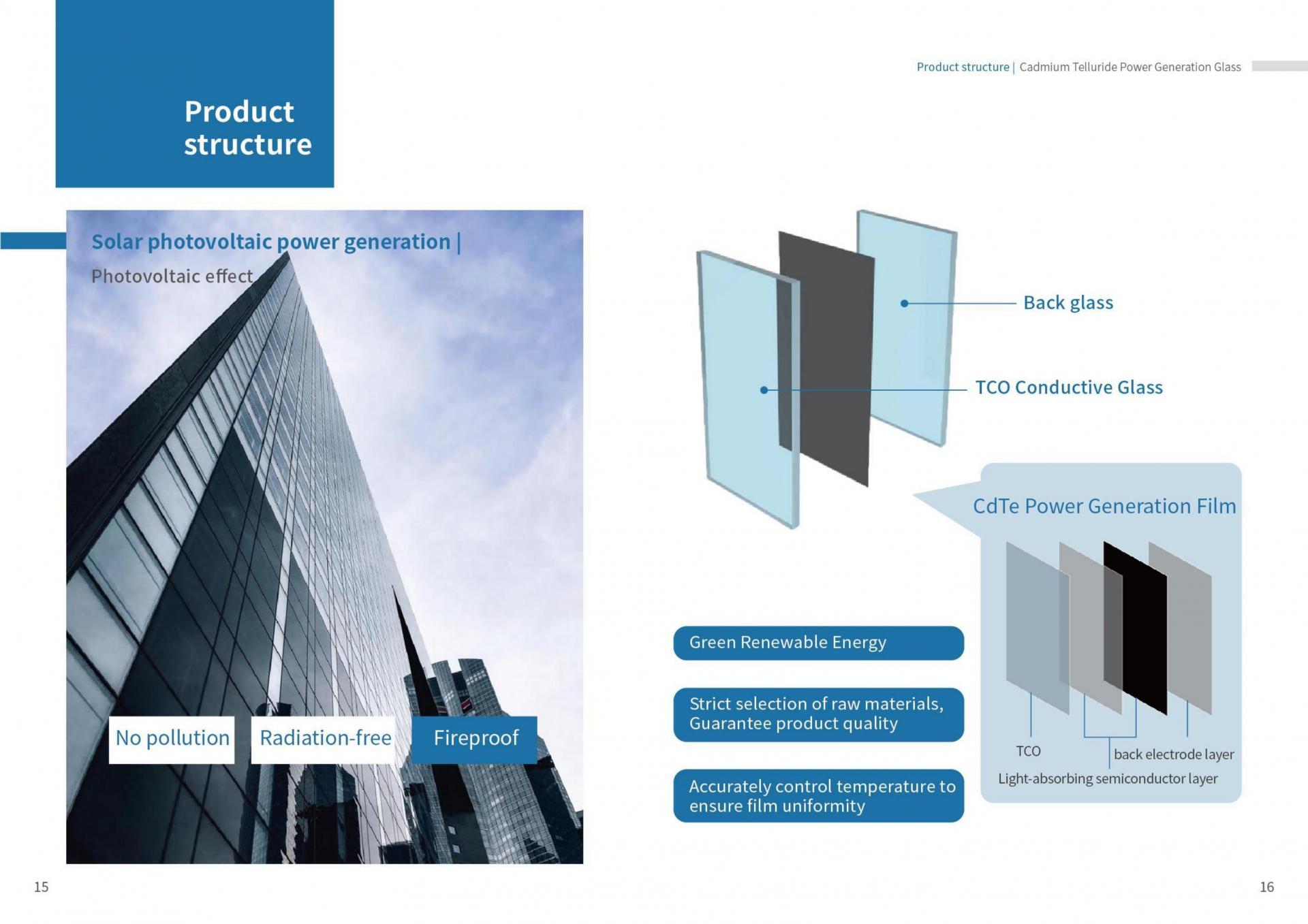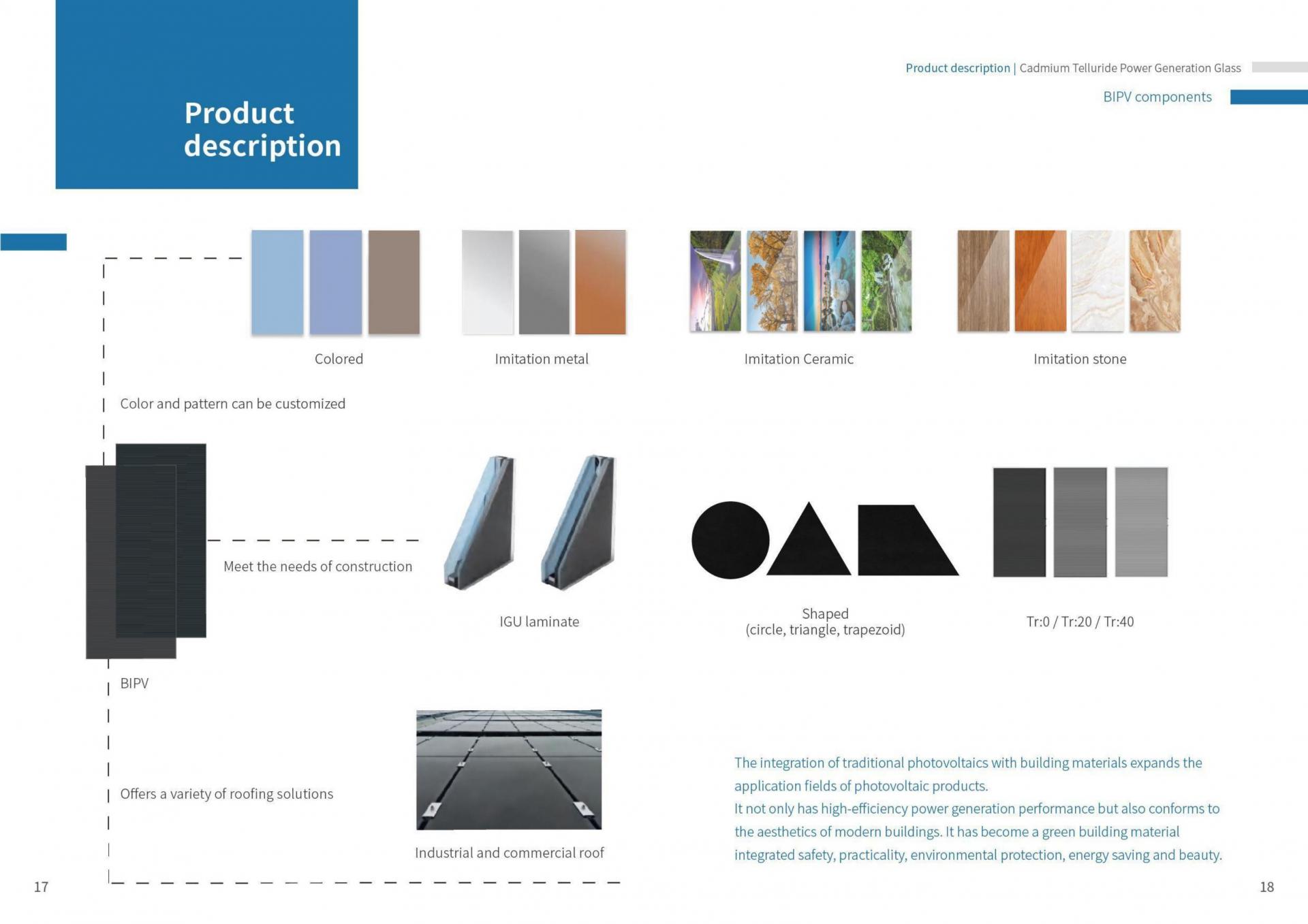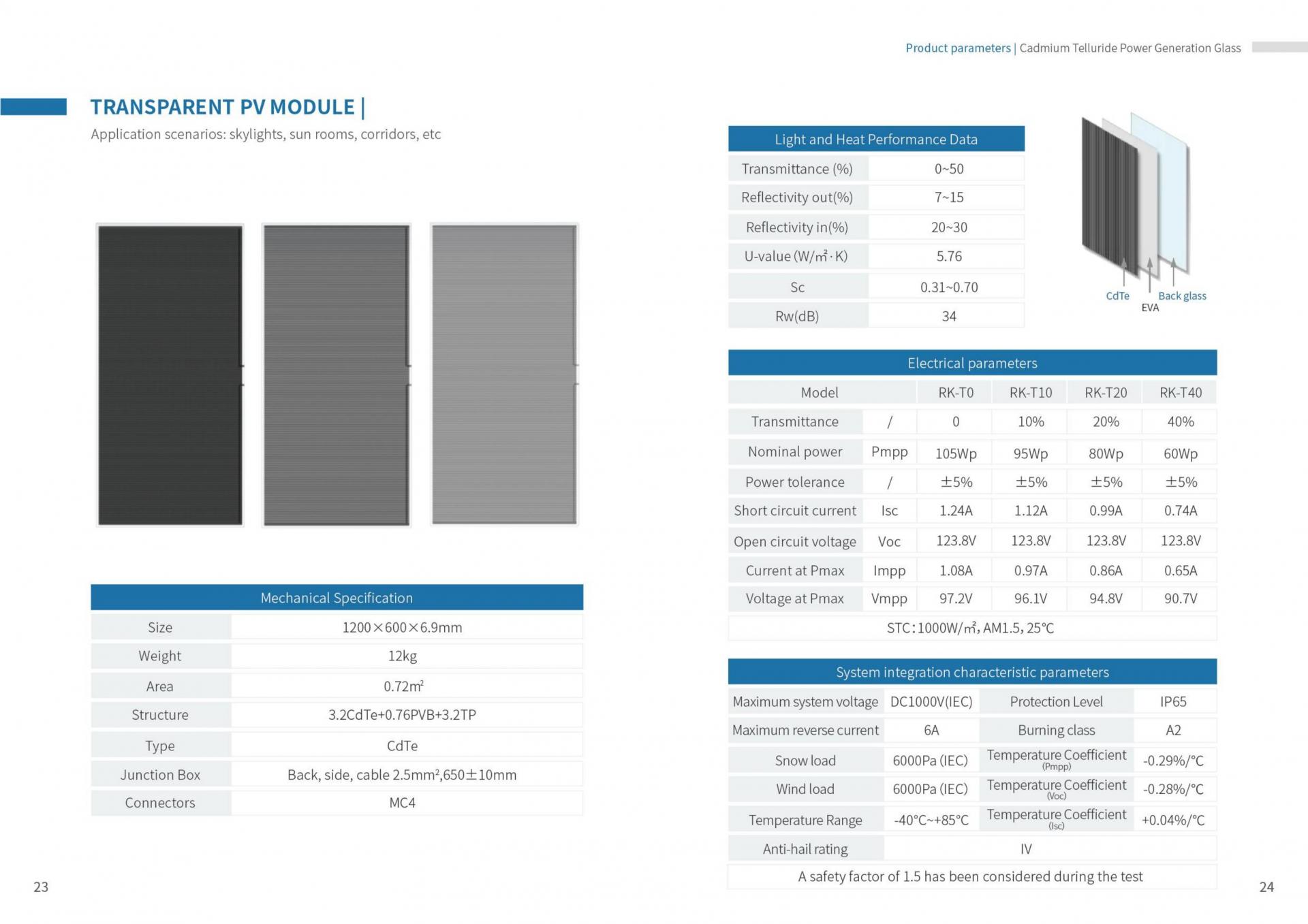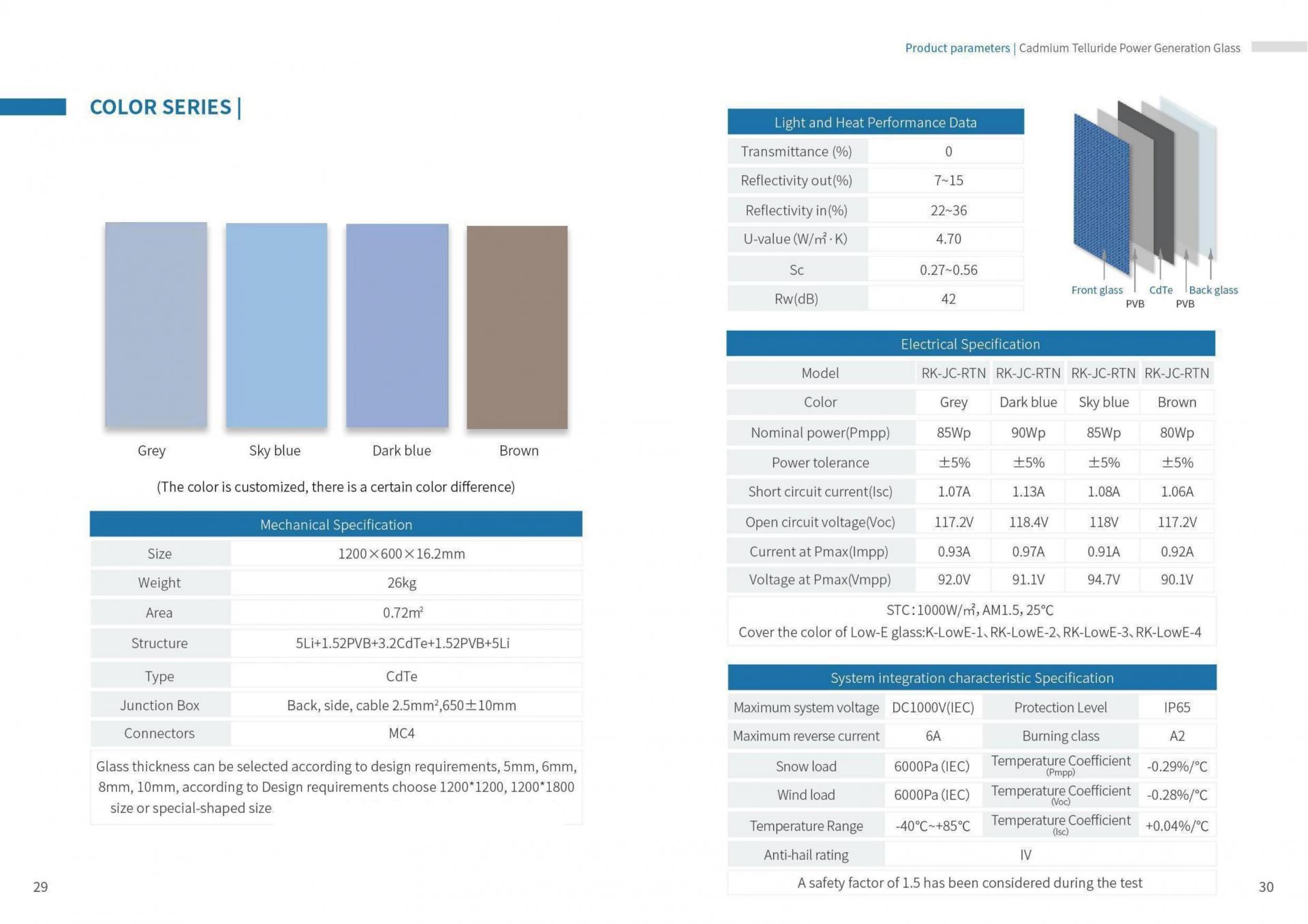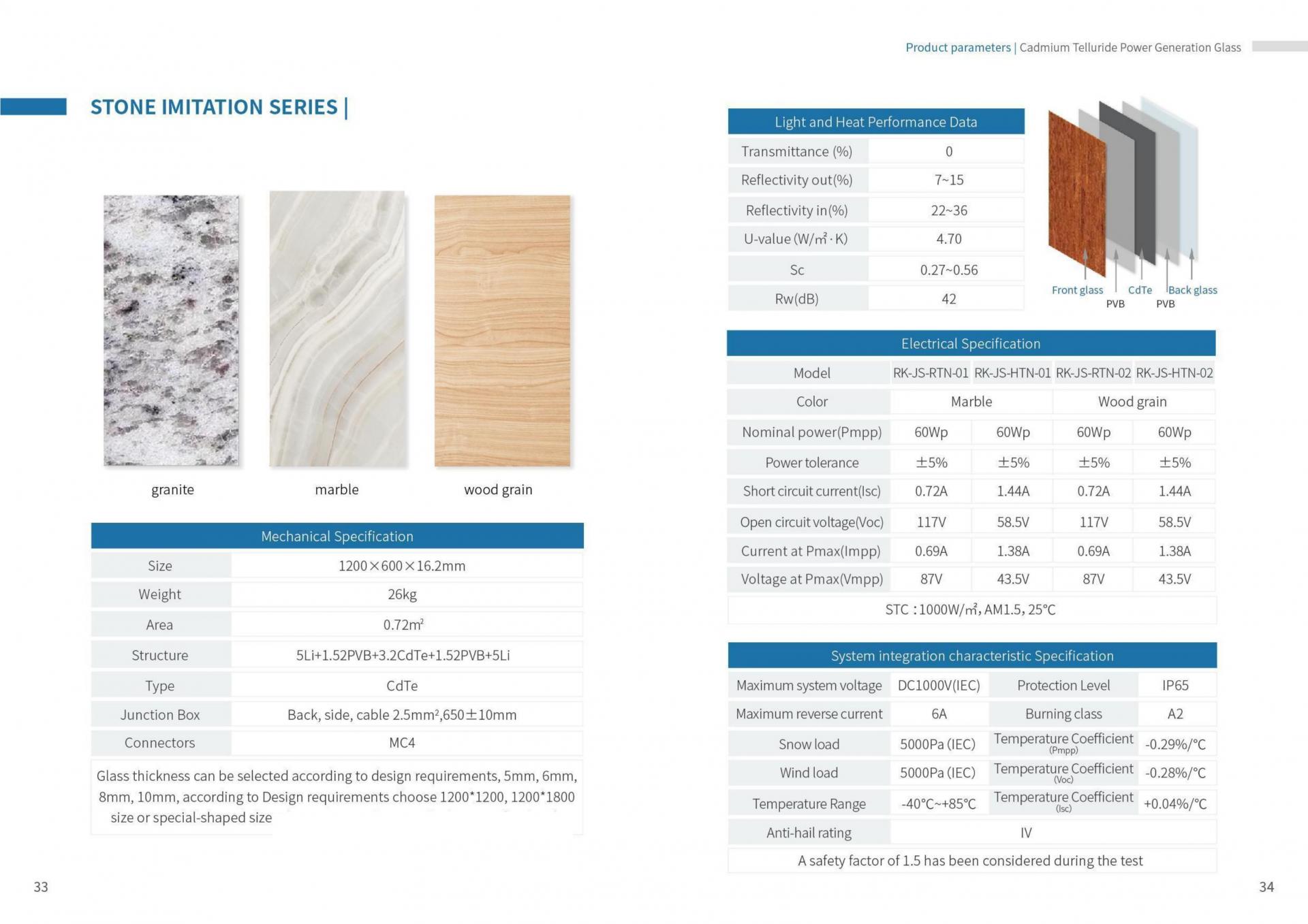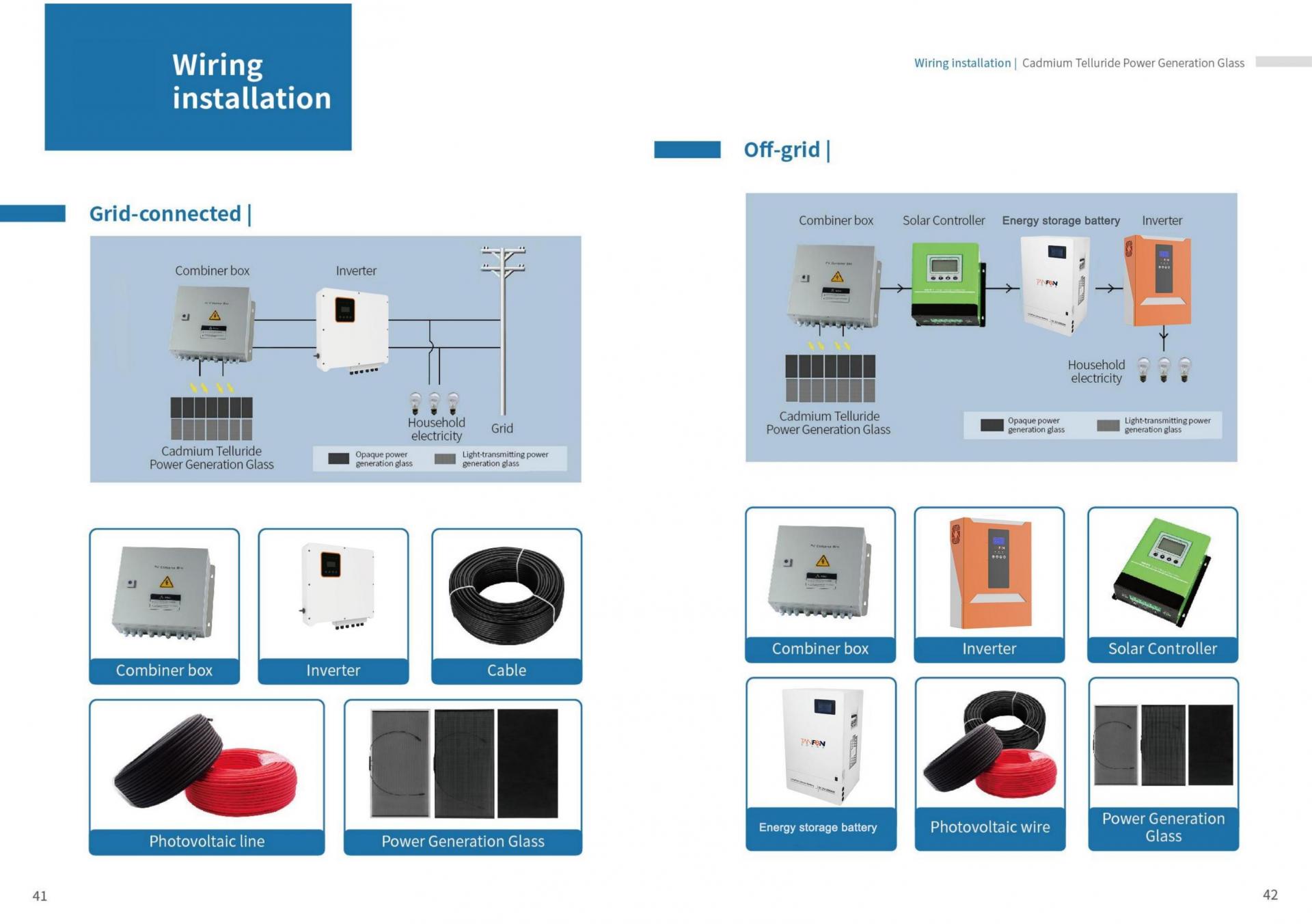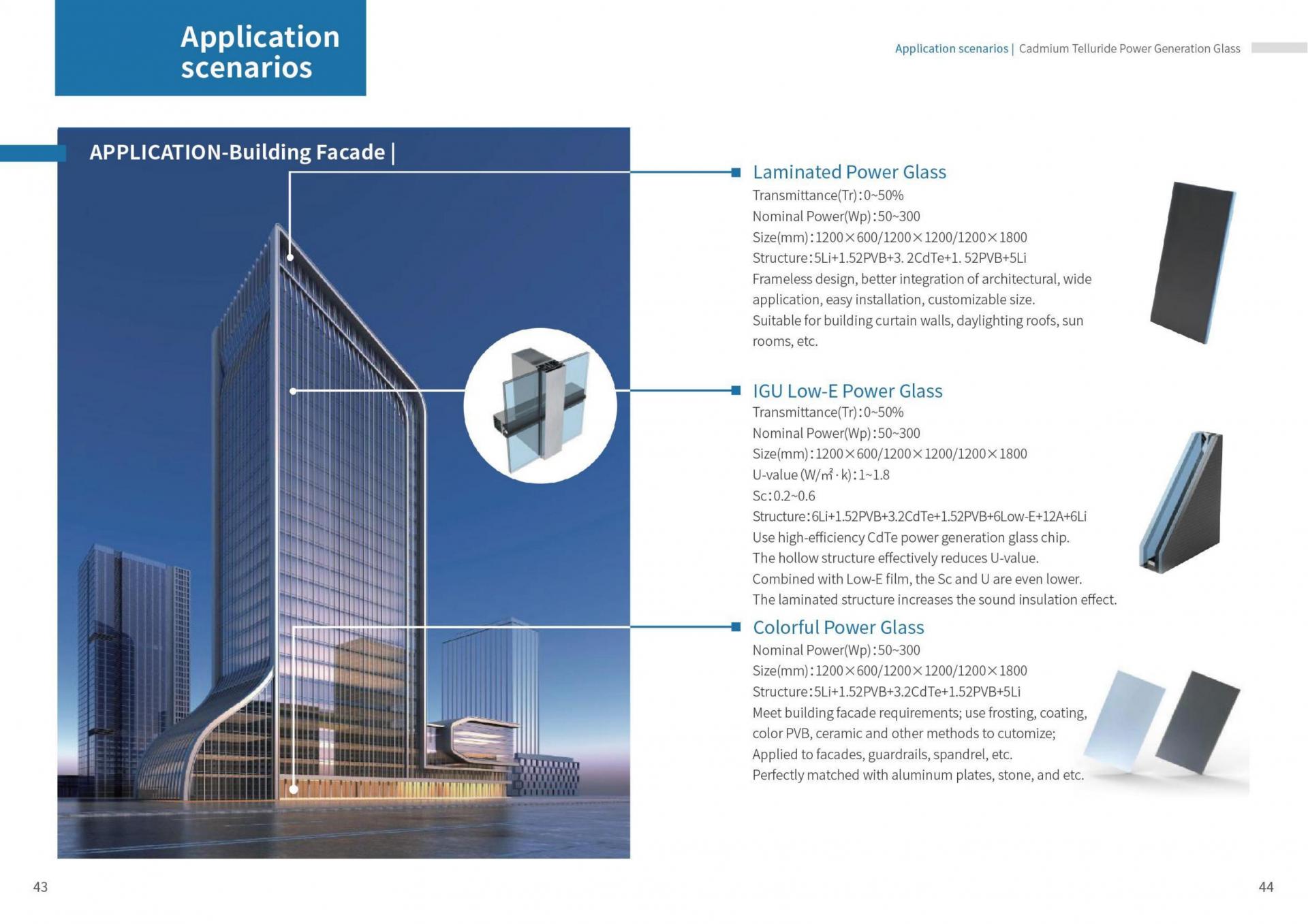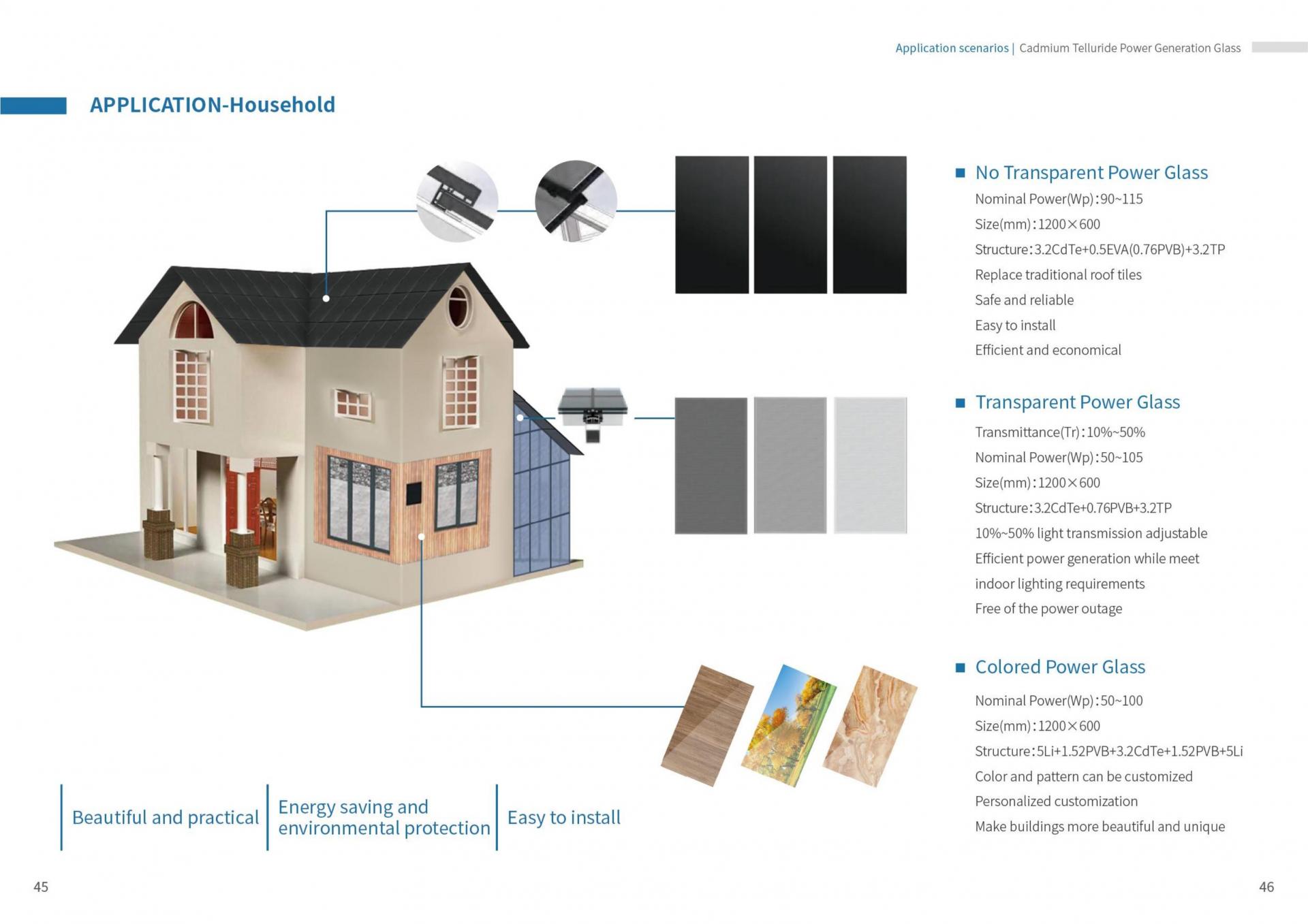 No Transparent Power Glass
NominalPower(Wp):90~115
Size(mm):1200X600
Structure:3.2CdTe+0.5EVA(0.76PVB)+3.2TP
Replace traditional roof tiles
Safe and reliable
Easy to install
Efficient and economical
Transparent Power Glass
Transmittance(Tr):10%~50%
NominalPower(Wp):50~105
Size(mm):1200x600
Structure:3.2CdTe+0.76PVB+3.2TP
10%~50% light transmission adjustable
Efficient power generation while meet
indoor lighting requirements
Free of the power outage

Colored Power Glass
NominalPower(Wp):50~100
Size(mm):1200x600
Structure:5Li+1.52PVB+3.2CdTe+152PVB+5LiColor and pattern can be customized
Color and pattern can be customized
Make buildings more beautiful and unique
Personalized customization
Make buildings more beautiful and unique