An old Angola customer ordered two 150KW solar power plant supply power to a community in 2019(before in 2018 have ordered 167sets solar school project) because it is a government project, and the bidding documents clearly stipulated that the solar power generation system he needed must include this device.
We debug and age the equipment in the factory. We send the entire cabinet directly to the customer, and the customer can use it directly after receiving the goods.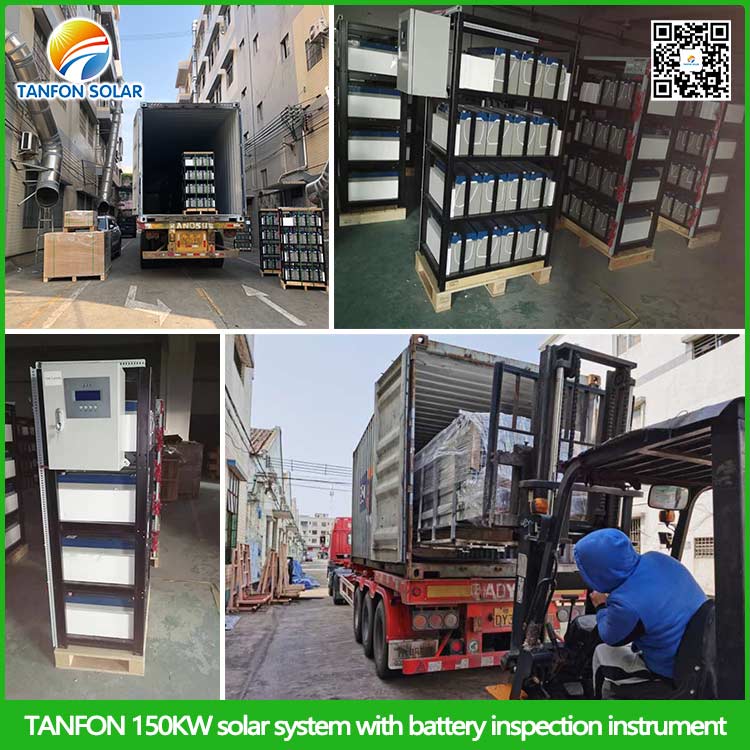 The battery inspection instrument is an online battery inspection instrument designed to meet the requirements of UPS, DC power supply, communication power supply, solar power plant and other systems. Monitoring and alarm functions such as battery ambient temperature and battery discharge measurement. Suitable for online detection of 2V, 6V, 12V solar power plant batteries.
1.Check the aging of the battery
When the actual capacity of a battery drops below 90% of its rated capacity, the battery will enter a decline. When the battery capacity drops below 80% of its original capacity, it will enter a sharp decline. At this point, the battery has a potential accident. When the capacity of the battery drops below 60% of the original capacity, the battery enters an abandoned state. In this case, we must use a battery testing instrument to detect it.
2.Check the battery capacity
In addition, there are many reasons for insufficient battery capacity. Because the battery is usually on a communication power system, it is not possible to fully understand the health of the battery by measuring the battery's floating charge voltage, so it is necessary to perform an online capacity test on the battery. This problem is now caused by the maintenance department.
Single cell monitoring has over-voltage, under-voltage and differential pressure alarm functions to accurately find faulty batteries.
3.Detect cell voltage, battery terminal voltage and battery, battery ambient temperature and measure cell internal resistance.
Discharge measurement, recording discharge voltage, current, discharge capacity and discharge time.
150kw solar power plant connect way:
We are deal over 12 years in solar market and sure can give you special solar power plant request and design ,promise give real service support.
Our solar power plant system Application: