Mongolia 30KW solar energy system applied in agriculture
This is a 30KW agricultural solar system. The installation site is located in the desert of Inner Mongolia. Because it is too far from the city to reach the mains electricity, it completely relies on solar power and diesel generators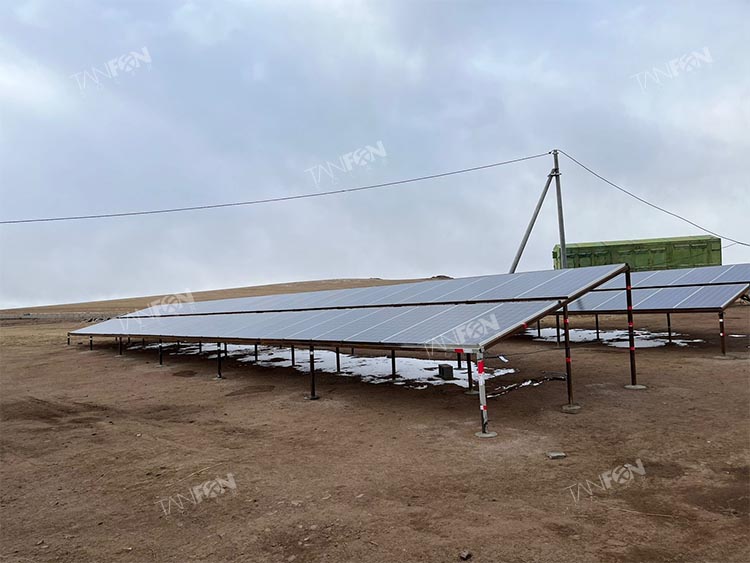 installation Location: Mongolia
Before purchasing, customers are most worried about quality and how to ensure that 50KW diesel power can be connected. Because it is installed in a no-man's land, if there is any problem with the product, it takes 3 hours for the engineer to arrive at the site. And this system has to ensure 24 hours/7 days uninterrupted operation.
Therefore, when customers choose a supplier, they will measure in many aspects and make sure that the supplier will provide consistent products and services.
I have tested the diesel power generation connection and normal operation with the TANFON factory, and the TANFON engineer calculated that if I use this solar system, I can actually pay for 4 years, and I will get free electricity for the next 21 years. Clients see it as a very worthwhile investment.
The customer also built a small house specifically for this 30kw solar system, put batteries, inverters, and controller products. Because the desert is very large, there is no need to consider the installation area at all.
During the installation process, because there is a very intuitive installation video, everything becomes very simple, and engineers only need to understand electricity to complete the installation quickly.
TANFON's engineers also video online. After installing the whole system everything worked fine.
"TANFON's service impresses me, his after-sales service team is very strong, and engineers can communicate in English to make our cooperation easier" This is the evaluation of TANFON from our customers.
Our team will, as always, achieve the ultimate service, put aside the simple buying and selling relationship, and push the service to the world.
IoT is a product of our 2021 service transformation that will transform the traditional cooperation of solar energy storage systems.
A solar service steward will accompany our system for life. Routine maintenance solar system reminders to improve the life cycle of solar energy.