Solar Technology improves time over time to satisfy the needs of the consumers. Machine intelligence being the ways to go solar energy systems have also been incorporated with artificial intelligence for easy management. Off grid solar can be manged remotely with use of inbuilts transmiters and clouds servers, this makes it possible to control and monitor solar devices parameters and functionality either using smartphone app or via pc online management remotely. This Technology safes on time, troubleshoot and reduced mantainance cost enhancing after sale services, safety is enhanced and he consumer is given full control over the solar energy system.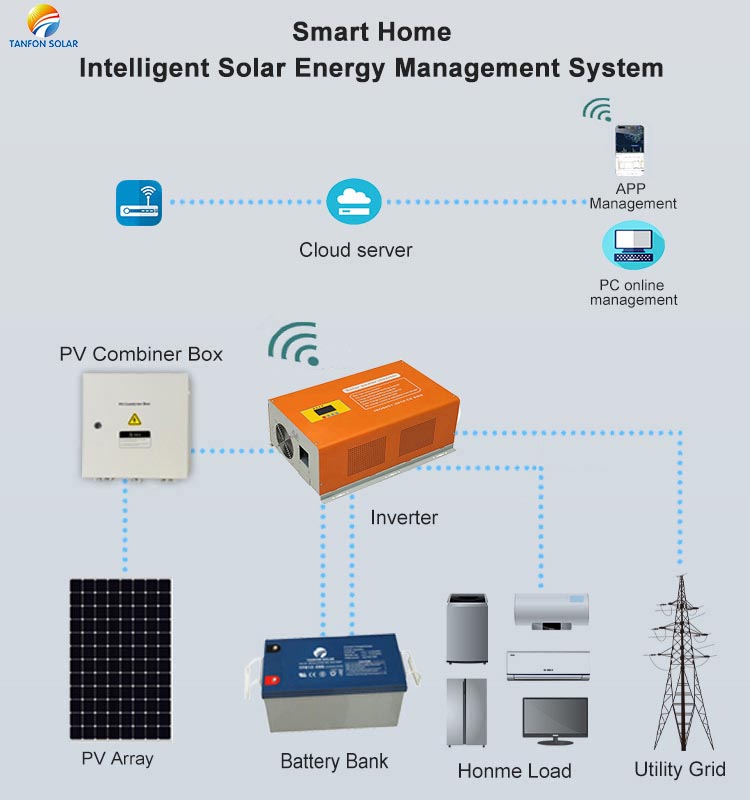 Fig. Intelligent Solar Energy Management System
We have completed solar systems with APP, Energy storage systems for home users, computer center, hospital, schools, commercial center, police station, petrol station, shopping center, military base, subway, transportation center, etc.
Benefits of Smart off-grid solar energy systems
● Clean, No noise, bad small pollution, Minimize Carbon footprint.
● Save, reduce your electricity costs.
● Convenient, independent of Grid utility, especially for Rural Areas.
● Easy, very easy in installation and operation.
● Smart, intellgent solar management ,control the solar on your phone
Get full set solar energy system, fitted with intelligent management system from Tanfon solar, Quality and reliable products and enjoy great after sell service deal.
Contact our team for more inquiries and quote @ whatsapp +86 132 4940 1341