Many industrial and commercial customers need solar system, their most worrying thing is the installation problem. Especially during the current epidemic, TANFON's installation team can't go abroad , so can't provide our customers with on-site installation services.
Before our Nigeria customer has installed his off grid 150kw 3 phase solar system successfully by on line support ! Why this customer is so brave to hand over their factory orders to TANFON ,is because of our perfect after-sales service system. Truly solve problems for our customers.
Q: For such big project, Do you provide the installation service?
A: Yes our Tanfon solar provide the one-stop service. But now because of COVID19, We can't go abroad. But we are always on your side, we will provide you the installation manual and the video,if need, our engineer could guide you online too.
Q: What i need to prepare for the installation?
A: Find 2-3 electricians at local, prepare the tools like the multimeter, screws, wire stripper, drill, spanner(13mm),Allen key etc. Do it step by step as our manual it is ok. It is not complicated.
Q: How your engineers go to my side for the installation ,how much would i need to pay?
A: You need to pay the air ticket and the labor fee USD200/day, now during the epidemic time, also have the quarantine fee for it. With round-trip air ticket about USD5000+USD200*5days=USD6000, So total cost is USD6000+quarantine fee. You will pay much more compared you ask the electrician at local.
Q: Have you ever had the customers who have installed the big power system by themselves with your manual ?
A: Yes! Our this Nigeria customer installed the 150kw 3 phase solar system for his factory use successfully by our online support. You could click the link to know more: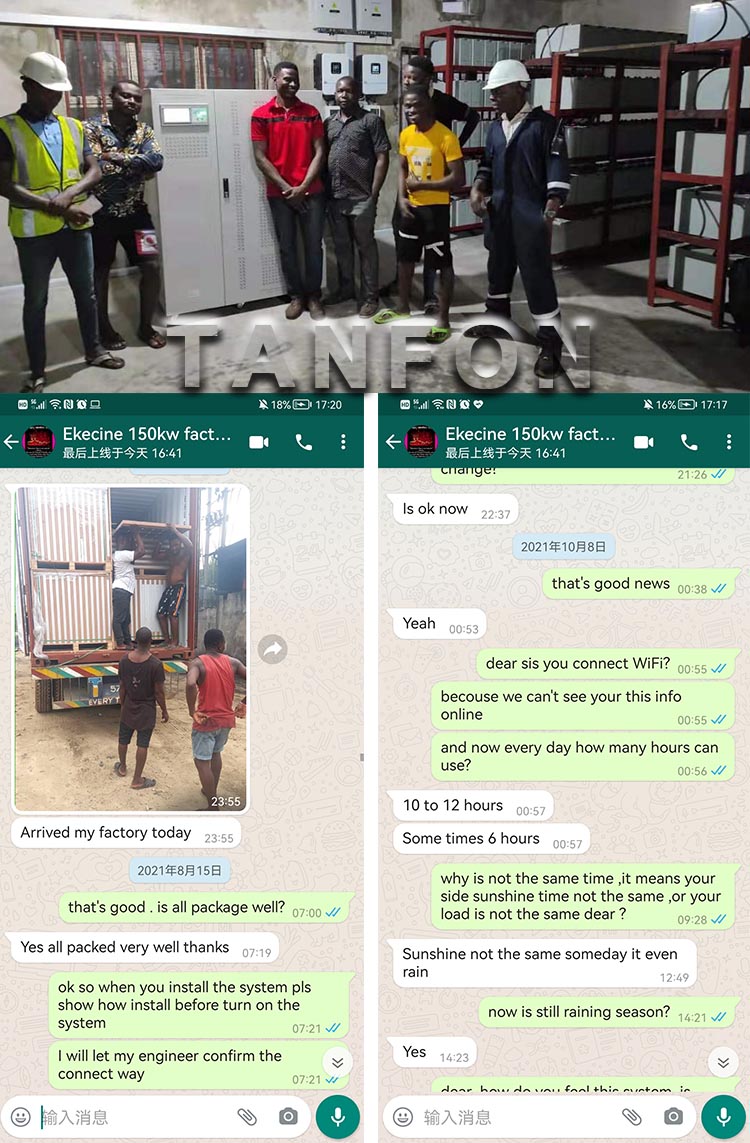 Q: After the system is finished the installation, during its operation , if have any problems,how you solve it?
A: We have the IOT technology, your system is connected to our factory internet through the IOT. It means that we could see your system working situation at our side too. So if any problem, we could give you the first time solution. It is like the service center at your side.